Return to Index
Member Biographies
(Bruce McInnis Heirloom)
Click on a name to go to their Biography!
---
Bruce McInnis
UVic 1968-1973
UVODC 1969-1972 President and Vice President during that time; 1 year each
1974-1984 Fisheries Technician and Biologist for Government agencies, McMillan Bloedel and BC Hydro
1984-2009 Park Warden, Parks Canada, Elk Island, Glacier, Yoho, Jasper, Banff and Waterton Lakes,
Retired 2010
| | | |
| --- | --- | --- |
| UVIC 1968 | Beach Photo shoot 1972 | 2016 |
---
Norm Willey
Teaching science, Alberta, Sask., and for the last 16 years Nanaimo. Married with a son in Ottawa (married) and a daughter in Victoria (married). Currently have one grandson(4 yr.) and another grandchild due this September. Both I and my wife are retired and living in Crofton. I play acoustic and slide guitar in two music groups. This past April we spent a month in Europe, our second trip there since retiring.
| | |
| --- | --- |
| Athabasca Glacier 1970 | Lynda and I in Paris 2016 |
---
Bonny Creak (Ross)
1967 - 1970 - UVIC - Education
1970 - Moved with Laurie to Prince George to be a special needs teacher
1971 - married Laurie Creak
1974 - became a teacher- librarian after finishing my teaching degree at UVIC
1974 - 1976 - elementary school teacher-librarian
1977 - 1986 - stayed home with our three children
1986 - 2004 - was a teacher-librarian at several elementary schools and a middle school
2004 - early retirement from teaching - moved to Halfmoon Bay on the Sunshine Coast
2005 - became the Children's Librarian at the Sechelt Public Library
2014 - retired AGAIN - definitely the final retirement so that I can spend more time with our three year old grandson in Vancouver as well as travel
We have three daughters all in their thirties - a change management specialist at UBC, a cardiac nurse at the Jubilee hospital in Victoria and a social worker in Vernon.
Laurie and I are very pleased that we moved to the Sunshine Coast though we also thoroughly enjoyed our 34 years in Prince George. It has been great fun meeting new people, travelling all over the world and settling into retirement in such a beautiful setting so close to the ocean.
| | |
| --- | --- |
| Long Beach 1968 | Kauai 2014 |
Reading all of your biographies over the past few weeks has been like reading an amazing adventure novel. The only thing missing is a romance story. I have decided to share mine with you to make our novel complete.
An Outdoors Club Romance Story or how I stalked Laurie Creak
Bonnie Creak
It was 1968 - the first UVODC meeting of the year. I had decided to once again join the club and had brought along a girlfriend who was also keen. As we sat down mid way up the lecture theatre I said to her that what I needed was "to find a man"! (my exact words)
At that very moment down in the front row where all the executive members were sitting Laurie Creak turned around, looked up to our row and smiled at me. I said to my friend - "That's the one" (more exact words.) What I didn't know at the time was that he was actually smiling at the girl sitting behind me. When the duty roster for the planned Pachena Bay trip finally reached our row I checked to see what Laurie had signed up to do - pancakes on Sunday morning. Surprisingly, I was very keen on making pancakes especially on Sunday morning. And the rest was history - he didn't have a chance!
Fast forward three years and it was our wedding in Campbell River on July 3, 1971. Since we had one year of teaching under our belts and "lots of money" we had decided to spend our honeymoon in Europe. The morning after our wedding, though, we finished packing our backpacks and headed off on a one week hike along the West Coast Trail before we flew to London. Laurie was very keen on showing me the West Coast Trail that he had worked on for two years. What I didn't know was that he had become very accustomed to the rough state of the trail. Terror griped my heart as we would go across suspension bridges with cross boards missing. The steep canyons below were only too visible especially when I was crawling on my hands and knees. Often Laurie would hold my ponytail in his hand to guide me across a dubious stretch. Being a true romantic he found a cave our first night out, packed bags full of sand to make a nice soft bed and presented it to me as a wonderful wedding gift. During the night I became very aware that there was not only scurrying going on over our sleeping bags (mice? packrats?) but also the sound of fluttering wings above (bats?). Somehow I survived.
The main attraction of the hike was to have me see the amazing Tsusiat Falls. We had hiked to the high bank above the beach where the falls enter the ocean - all I had to do was climb down a 100 foot tree leaning against the bank using the dead branches as steps. Laurie and the crew had strung a metal wire down the length of the tree as a railing that you could cling to if you started to fall. (ya, right!) I had reached my limit of fear - I refused to go down. The marriage almost ended after three days. Needless to say I did not get any assistance as we returned back over the boardless suspension bridges. Silence was my companion.
At least we had the trip to Europe to distract Laurie from my obvious short comings in the adventure category! Bob and Sue Ennis had invited us to attend their wedding in England which was to happen later in July. Laurie was to be Bob's best man. We decided that since we were all newly weds we should make our trip to Europe a joint honeymoon. It seemed logical at the time. Bob and Sue were married in the morning and by dinner time we all were on a ferry to France in a rather compact van. It came equipped with a double bed and two hammocks - one of which, by the way, was right over the double bed. When we opened the hammock over the bed we found that one end of it had melted as that end hung right over the stove. That meant that if it was one couple's turn to be in the hammocks one person had to sleep on the front seat of the van while the other took the hammock that was still useable. In that fashion we toured for three weeks around France, Andorra and Spain. Amazingly, considering our very tight quarters, we only had one explosive moment when there was a heated discussion as to whether we should actually finish the heel of the current loaf of French bread or start a brand new one. Despite that epic contentious decision we managed to remain good friends.
All love stories are not equal but I think ours is in a very special category. It's been 45 years now and I have never seen Tsusiat Falls. Luckily though, we have had many other adventures to make up for it that did not involve 100 foot trees!
Our three daughters: Allison, Stacey and Erin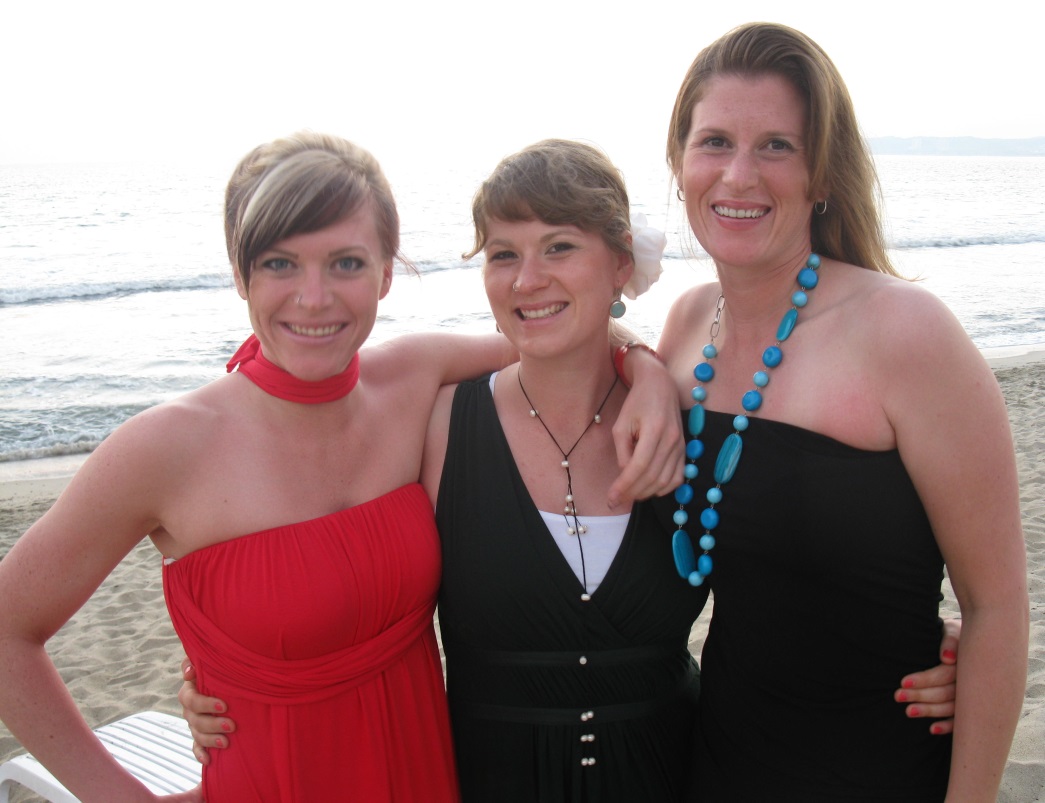 Bonny
---
Laurie Creak
After teaching high school in Prince George for 4 years, my gut told me I needed a job with lower stress levels so I chose.....real estate. For the next 38 years! Once our kids were older, I became more involved in the organizations that Realtors have. I was twice elected as a director of my local board (Cariboo-now B.C. Northern), became an instructor for the B.C. Real Estate Association, was elected 3 times to the Real Estate Council of B.C., and finally appointed for a 6 year term on the Real Estate Errors and Omissions Insurance Corporation.
After my second diagnosis of cancer, I decided to spend whatever time I had left back in the great outdoors. I retired from real estate in 2012 and started a (small) yard maintenance company called Garden Gophers. I spend my summers working in some of the neatest gardens on the Sunshine Coast and my winters in Hawaii and southern California. With Bonny I have hiked in the Austrian Alps, hiked along headlands in the Portuguese Algarve, walked the Samaria Gorge in Crete, biked along the Rhine and gone on garden tour trips in England , Holland, Belgium, and most recently, China.
I was on a dragon-boat team for three years and now play pickleball 3 times a week ( 7 days a week in California-yep, I'm an addict) Life is great; can't wait to see you all in September.
| | |
| --- | --- |
| 1968 | Cruising the Gulf Islands - 2015 |
---
Per Jensen
Left UVIC in 1970 hired on with PGE (now BCRail then CNRail) Worked there mainly as equipment operator and foreman. Moved to Prince George in the early 70's as it was central to my work was all over the Province. Retired from the Railway in early 2005 and moved to Penticton. Then I was offered a job in Chetwynd in the Coal Mines I remained there until early 2014 when the mines went bankrupt. Finally I was offered a job operating a crane in Grande Prairie in the fall of 2014 I worked there four 4 months when I realized I was too old. I've done a little travelling Mexico, Cuba, Hawaii and a few more States. Now I'm just a mediocre golfer trying to improve.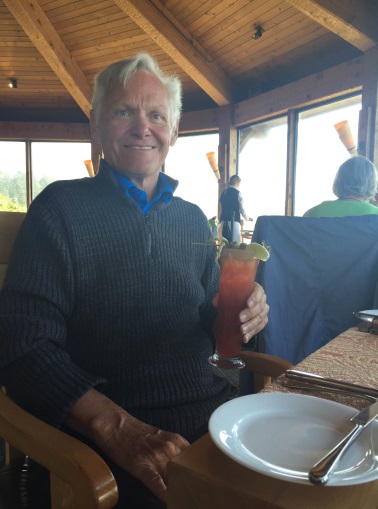 ---
Brian Trueman
I have spent most of the past forty years employed in the forest industry, mostly concerned with Veneer and Plywood production. I am currently employed as a millwright, working for Coastland Wood Industries Ltd. In Nanaimo, B.C. In the past I worked in Williams Lake, Lillooet, Vancouver, and now Nanaimo. I attended B.C.I.T. Lumber and Plywood. I was married for twenty years, though I am now divorced. I have two children (now adults), no grandchildren, and only have a puppy to take care of. I have travelled to 26 different countries in the last twelve years and have been scuba diving in the best dive sites in the world including Grand Caymen, British Columbia, Australia (Great Barrier Reef), Hawaii, Turkey, Greece, Mexico, Malaysia, Bali, and the Red Sea. I have walked through the Coluseum, been on a camel at the Pyramids, been white water rafting in B.C. and Costa Rica, been to Vimy Ridge and Normandy, and flown in a B-17 bomber.
---
Karen Careless
I have done many hikes since living UVIC including Tatshenshini, Spatzizi, many. many hikes around Smithers, Cranbrook, and Gibsons (all places I have lived). Mentioning them all would be boring. I have canoed many rivers in B.C. and traveled to many countries including New Zealand, Australia, (everyone needs to experience going across the Nulabor Desert by bus!!) and the National Parks of the Western U.S.
Ric and I had one daughter, Sheena. She has been the joy and inspiration in my life. I have one grandson Toby who is a bundle of energy and I am sure he will do many of the hikes we did within half the time. I taught Grades, 1,2, and 3 for twenty years, until M.S. robbed me of ability to handle 25 six year old in an emergency. I now have the love of my life (Jack) by my side. He has given me every opportunity to live my life to the fullest. My physical challenges have made any walking difficult, but I have not forgotten the times and trips with the Outdoors Club.
I was given the opportunity to love the outdoors, and all it has to offer I have donated what I could to the preservation of the wilderness in B.C.(I do hope that Ric will tell us about the land he has personally been responsible for saving for all of us.) I will never forget what the outdoors Club instilled in me. The land must never be taken for granted and treasure every moment one has to explore and appreciate what we have and don't give up on any chance to appreciate what we have. Life is short and the times to appreciate the land is even shorter.
I now understand that a good game of THUMPER is not an excuse to refuse an opportunity to go out and explore what is available and accessible.
---
Susan Hendricks (Reeson)
I was at UVIC from 1967 to 1971 and then part-time until 1974 while working on my master's. I joined the Outdoors Club from the beginning and loved all the activities, the hikes and camping and the social events. Lynn Bissell and I left in second year (1968-69) and attended the University of Hawaii together in Honolulu, but came back to UVIC the following years.
I was married in 1971 and some of you may remember my husband was an American who had just returned from service in Vietnam. Unfortunately, the marriage lasted three years, but we had no children together. I married Fred Hendrick in 1976 and we have two children, James and Kaitlyn, who are now both in their 30s and we will celebrate our 40th wedding anniversary this December. We moved to Phoenix Arizona in 1986 and Fred went into business with my father and brother-in-law here building homes in the Valley. Our son is a teacher and has been teaching in several places around the world, but now we're happy to have him back here in Phoenix since 2011 teaching at a private academy.
Our daughter has severe learning disabilities and, since I didn't have permission to work here for several years, I busied myself with helping the family in the business and getting her through school. During her high school years, I went back to university here and completed studies in Pre-Med, intending to go to medical school, but decided instead to pursue a Masters of Medical Science and Master of Physician Assistant Studies. I graduated in 2004 at the age of 55 and worked first in a general cardiology practice for about 7 years and have more recently been at Mayo Clinic in Phoenix as the physician assistant for the Arrhythmia Clinic cardiology group for the last five years. I'm very passionate about caring for patients and love what I do – I'm so glad I finally got to pursue medicine.
Fred retired a few years ago, which makes it easier for me to continue working as he is around more for our daughter, who is actually doing quite well and is getting married next spring. We have spent the years enjoying travel with the kids – lots of ski trips especially – as well as water skiing, music events, travel with friends, and frequent trips to Victoria over the years to visit family there. We both still have sisters in Victoria. However, it saddens me that we lost touch with the friends from the Outdoors Club and I'm so pleased to have the opportunity here to see so many of you again.
---
Jim Halvorson
I graduated in 1978 and immediately discovered that I did not know what to do with my sub-honours degree, so for a few years, I didn't do much of anything, except climb a lot of mountains. Eventually, after suffering a back injury, I hit upon the brilliant idea of getting into accounting, thinking that a strong back would not be needed. Unfortunately, other qualities were needed that I did not have, like the ability to work accurately with numbers. Finally, at an aerobics class in Salmon Arm, I met a few teachers, who upon discovering that I had a degree that I was not using, suggested that I help out in their classrooms. Had I ever thought of teaching, they asked and the answer was no, actually. But, what the heck?
So, back to Simon Fraser (UVic wouldn't let me in) for my teaching certificate. I actually turned out to be a pretty good teacher, but not in an organized way. What I was good at was entertaining the kids and getting them to laugh and somewhere in there, causing them to learn some things. Apparently, I have the sense of humour of a 12 year old. Perhaps a qualifier is required at this point. The boys thought I was funny;many of the girls would just roll their eyes at my jokes. I really enjoyed teaching (mainly Grade 7) andalthough I retired three years ago I still do some substituting in the primary grades. The little kids still think I'm cool.
Okay, this is getting too long but this shows one of the things the kids loved; I could get into long discussions with them and they would not have to do any work. I started out teaching in Salmon Arm and then moved to Windermere and then Golden. Everything finally fell into place in Golden. I got a full-time teaching position and met Susan, who was a nurse. We have been married (I was 54) 16 years now and the two of us still do a lot of hiking, cycling and cross-country skiing, although wonky knees are slowing me down.
---
Brian Harris
Brian Harris at UVIC 1968-1970.
Travelled in Europe for 1971.
Went to BCIT 1974-76, in Fish and Wildlife Management.
Fish and Wildlife contractor 1976-1980
Completed BSc from University of Waterloo in 1999.
Joined BC Fish and Wildlife Branch in Squamish in 1980, moved to the south Okanagan in 1981 and stayed here ever since. Retired in 2013 as Okanagan Region Wildlife Biologist.
Regular contributor of articles to outdoor oriented magazines such as BC Outdoors, Western Sportsman and Outdoor Canada.
Married to Laura in 1979.
Three 3 kids: Michael, who moved back to Summerland in 2014, bought a farm and has started a cidery, Vicki who lives in Halifax and is expecting our first grandchild and Drew a computer software engineer living in Victoria.
Although I was only 2 years in the Outdoors Club, those years generated many fond memories and strong friendships. I am sorry to be missing the reunion but we will be in Halifax visiting our daughter.
---
Ken Barton
I attended Uvic (1966-1970) graduating with a BA. I had 4 fun filled years in the Outdoor Club and can truly say that the people that I met in this club were what made going to school worthwhile. Really looking forward to renewing many of those acquaintances.
Moved to Vancouver in 1970 and subsequently went to BCIT (1970/1972) completing a program in Human Resource Management. From there, I spent 20 years with CP Air/Canadian Airlines starting in HR and completing my time with them in the IT field. With the demise of Canadian Airlines, I joined the Workers Compensation Board (BC) and spent 6 years with them before moving to Calgary and joining CP Rail in 1998. I retired in 2012 having worked in their IT and Supply Chain departments. All in all, very much enjoyed my working career. Although, I could have done without the joys of Calgary's winter and the constant requirement to shovel snow 6 months of the year.
Linda and I have been married now for 40 years and have 2 boys, Stephen and Kevin. Both are living and working in Calgary. Stephen is married, but no grand children have joined the gang of Calgary Bartons at this time. Linda is still working and is a Family Therapist and Counsellor with Alberta Health Services. I continue to be active in sports, playing hockey 3 times a week in the winter and in the summer golfing and riding my bike.
Really looking forward to catching up with everyone.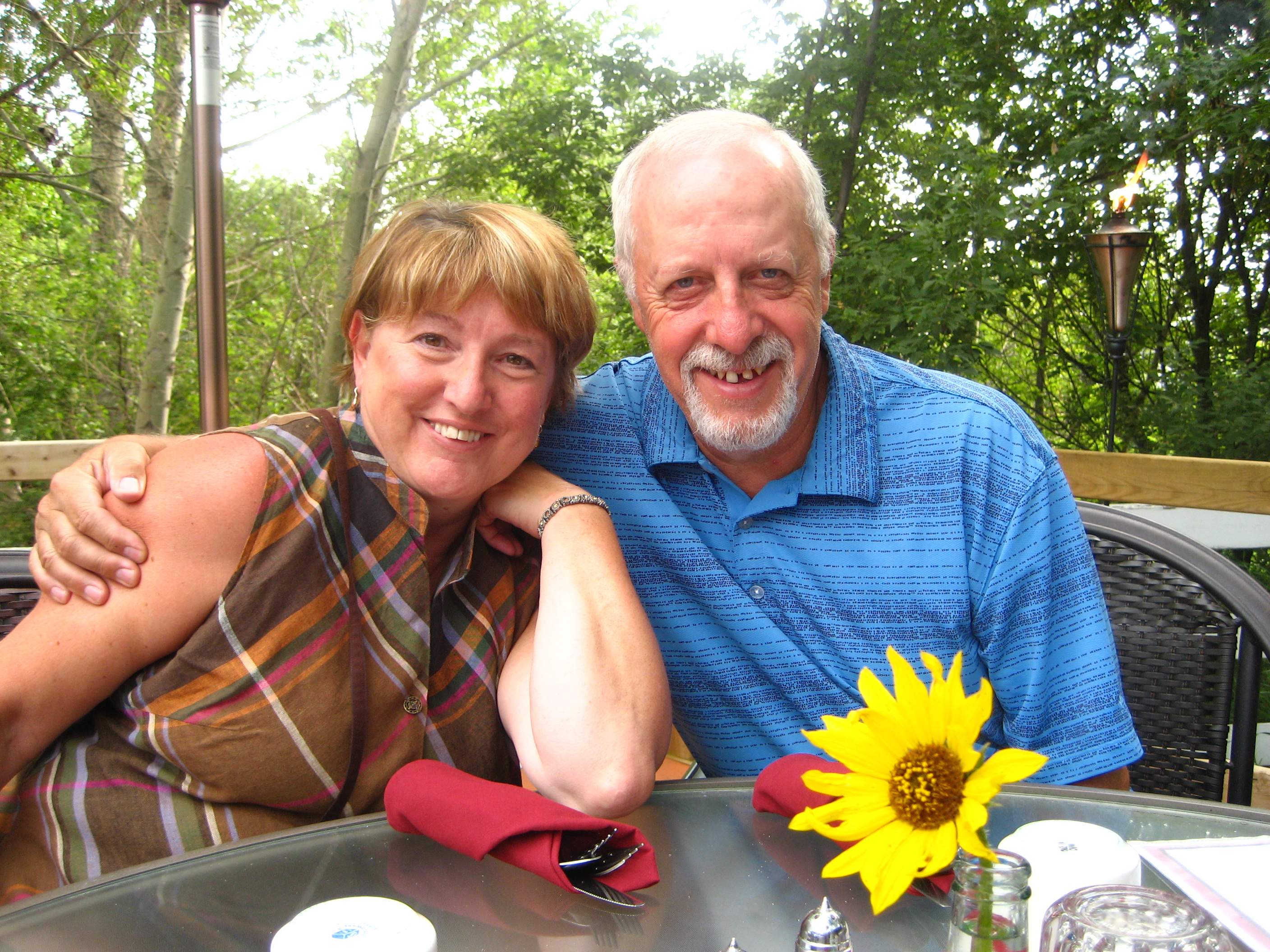 ---
Ric Careless
Ah, the UVic Outdoors Club! I so well remember how we crazy university students clambered down creeks to reach remote beaches, thrashed through 12 foot high salal jungle, and yes, got lost and stayed out that rainy October night on Todd Mountain. We drank hard and hiked hard. We were so lucky we never lost someone over the edge of a glacier or into a surge channel.... although we certainly came close several times. I guess it was that we were immortal back then!!!
Those outings were what really connected me to Nature and inspired me to dedicate my life to protecting wilderness. The first campaign I led (while at UVIC) preserving the Nitinat Triangle as part of Pacific Rim National Park, grew directly out of the Outdoors Club. This was the first old-growth forest wilderness campaign in Canada. It triggered the founding of the Sierra Club on Vancouver Island of which many Outdoors Club types were the first members. Since then, over the years, I have led numerous campaigns that have protected almost 10 million acres of wilderness in places such as Tatshenshini, Spatsizi, Purcell Wilderness, Height of the Rockies and across the Chilcotin. I have been honoured to receive a variety of awards for this work including the Order of BC. I wrote a book about several of these campaigns, To Save the Wild Earth that talks about how my activism was born in the UVic Outdoors Club.
As well, as working to preserve wild spaces - I am the Executive Director of BC Spaces for Nature - being out in Nature has been core to me. I have backpacked, canoed, kayaked, rafted, sailed and skied all throughout BC, getting way into the back and beyond. Every trip has had its exhilarations.
I've also been fortunate to be able to travel extensively to wild places on all continents. I guess I am just such a geographer at heart.
I was married for 14 years to Karen McNaught who I met in the Outdoors Club. We remain close friends; in fact, we are next door neighbours. We have a daughter Sheena who is now 34. She is a nature teacher. Her son Toby, age 2, is very much being raised in the outdoors.
In 1987, I met and began living with Dona Reel. We married in 1999. Dona is my love and my partner in life. I feel very lucky to be with her. Over the years we have worked together at BC Spaces on wilderness preservation; we have had countless adventures exploring wild places; we have help raise Sheena; and we have enjoyed Dona's two grown children, Shona and Jesse, and their 5 kids. All in all, it has made for a very full life together.
I'm so looking forward to the reunion. So many of the people that I knew in the Outdoors Club have remained alive in my memories throughout the years. My thanks to Bonny, Laurie and the others who have organized this weekend.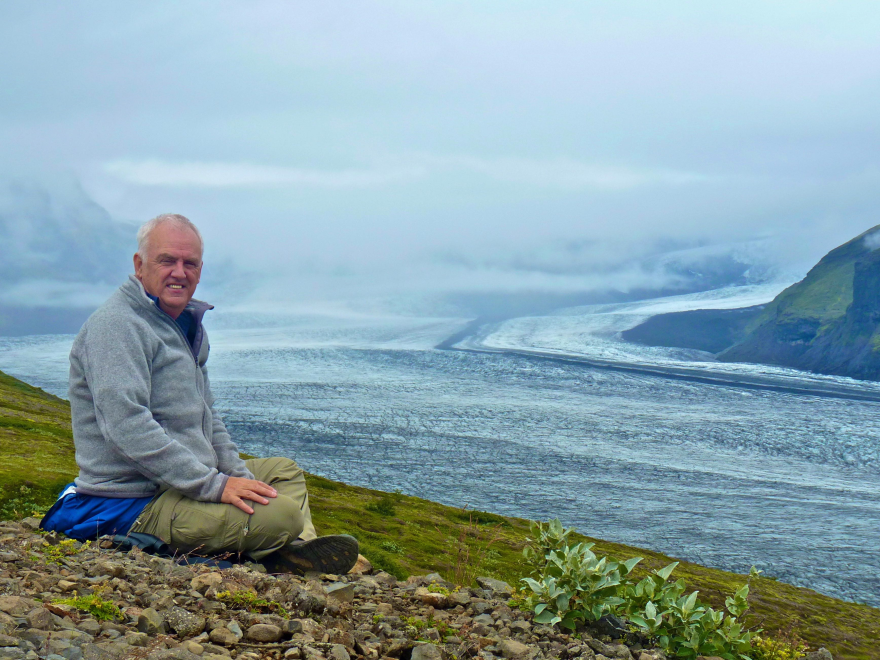 ---
John Sampson (grad 1969)
Following my UVic years, I moved to England to start my IT life: IBM for two years. Then a return to Victoria to work as a fledgling programmer at UVic for five years.
My first attempt at leaving the computing world behind was working for a year with BC Hydro on a survey crew on Vancouver Island, then in the Kootenays, before returning to contract work in Victoria with various government departments.
Second attempt was to move to East Van, and spend two years on a Outdoor Rec diploma from Capilano College. I almost stayed in recreation, but took on obligations like marriage and children for the next 16 years. During that time joined forces with a mentor and business partner and we consulted in the Vancouver area for over 20 years.
We raised two wonderful sons, Graeme and Ian, but my first wife and I parted ways in the mid 90's. I've very happily remarried in Victoria in 2007, and the boys' lives are well underway in Vancouver and Providence, Rhode Island respectively.
Back in Victoria from 2004, I've been contracting off and on with Camosun College until retirement in June 2015.
My interests in the outdoors never stopped, including running, cycling and cross-country skiing. My running has continued to be a big focus for me, primarily trail running for the past 15 years. I completed 5 marathons, 4 of them in the 1995-96 period. Longest event was the 50km ultra at Buntzen Lake in 2001. Best trail run to date was with two great running buddies in 1996, when we traversed the alpine Heather Trail system in Manning Park (44km in 8 hours, from 6000' feet down to 2000').
I continue to love nature, landscape photography, have recently joined a fine art collective in Victoria, and, yes, gave up film for digital fully 10 years ago!
My piano still figures prominently in my life and the style persists as improv solo blues, rock and jazz.
I'm very fortunate my health has remained good, and I'm still active running and cycling. Sue and I love to backpack when we can, and have done trips into the Monashees, the Bugaboos and Cape Scott. We recently paddled the Bowron chain in summer 2015.
With fond memories of UVODC days!
John Sampson
2923 Dysart Road
Victoria V9A2J9
250 592-0258
---
Denys Beames
Denys has been involved in bicycle traffic education and IT work as a business analyst and tester. He has been a writer, construction worker and more. His education includes a BA in English and Psychology from UVic and a Media Arts Writing diploma from Sheridan College in Oakville ON. Along the way he picked up an interest in Really, Really Dead Things (see photo), and rockhounding. He is married with two adult kids who refuse to support he and Laine in the style to which they wish to become accustomed (what's wrong with the younger generation, anyway?) Currently residing in Victoria, Denys has also lived in Nanaimo, Ladysmith, Toronto and Oakville. He has also worked in Vancouver and Calgary, but got out of Calgary before the oil crunch.
---
Ron Reid
Just before and after I finished University I had a couple of opportunities to get married to lovely ladies but something inside told me that there must be more to life and I opted for what I thought would be a 5 month holiday in Europe. That decision changed my whole life.
Europe was like a huge playground for travelers like me. I quickly adopted a hippie lifestyle that found me having more fun than I had ever had before. I lived for awhile in a fishing village in Spain where I remember watching one of the moon landings while drinking in a bar surrounded by barefoot fishermen. I hitchhiked through Morocco with little more than a plastic sheet, sleeping bag and some spare clothes. At times my surroundings made me I feel like I was in biblical times. I didn't realize it at the time but after Morocco I was hooked, not on drugs, but on travel. Soon I was in Greece where I lived in an isolated coastal village and fell in love for the third time. There, someone said 'Why don't you go to Turkey? From Turkey, I continued on to Afghanistan, India, Nepal and South East Asia. In Singapore I didn't have enough money to get back to Canada so I booked a passage on a freighter that took me to Sydney, Australia.
On the freighter I made some friends that I still have today. We developed what was basically an international friendship group with a core of dropout professionals who were into everything imaginable. We had about 10 years of soft drugs, alcohol, sex and music. People were coming and going on national and international trips, protesting and performing in the arts. Every weekend there were about 3 parties to choose from. It was incredibly exciting. In those 10 years I did two more trips of 13 months and 16 months mostly to Asia, got a teaching qualification, taught high school for 3 years and mostly lived by using my wits. On my trips to Asia, I spent a lot of time in Indonesia where I learned to speak the language. That allowed me to visit remote places where the children had never seen a Caucasian tourist. The second trip cost me nothing due to a currency fluctuation in my favour and I made a profit on the third trip by buying and selling gemstones. I unsuccessfully pursued enlightenment in India, climbed into active volcanoes in Indonesia and got shot at couple of times amongst a host of other adventures. My life was never boring.
In 1980 I got married to an Australian lady and shortly thereafter went back to teaching in which I continued until 2005. About the same time many of my close friends also got married, often to each other. Most went back to their professions and outwardly respectable lives. My wife and I bought a house in Sydney, had a child and moved to the countryside where we had another child. Living in country Australia allowed me to see life from a different angle. A highlight was teaching Aboriginal children. They probably taught me more than I taught them. Through my children I took up coaching soccer. For someone who had never played soccer I had incredible success and my older son has played on five Australian championship teams. I have wonderful memories of my involvement in soccer but eventually had too much success and lost interest. After 12 years of marriage and 20 years of knowing my wife I got divorced and moved to Canberra, Australia with my older son, James. My former wife also moved to Canberra and the children were able to go back and forth between the two households as they pleased.
Teaching gave me the opportunity to make a difference in some children's lives. As I had done with young soccer players I was able to inspire students to do things they wouldn't have done otherwise. It was always a mystery to me as to why I had this effect on young people.
At age 58, having done pretty much what I enjoyed all my life I was able to retire with ample savings and four pensions coming in. We baby boomers are truly a spoiled generation! Since 2006 I have been budget traveling around the world having just as much fun as when I was younger. Highlights have been 12 days in a wooden canoe in the Amazon, playing at being Indiana Jones while horse riding in the Chachapoyan cloud forest in Peru, hiking in the World's second deepest canyon, cruising in the Galapagos Islands and traveling through Kashmir and Ladakh. By continuing to take myself out of my comfort zone I have kept expanding my horizons.
Recently, I remarried and my wife and I are currently travelling in Asia on our honeymoon. The adventures go on.
As it was for so many others my day and overnight trips with the Uvic Outdoors club were a thoroughly enjoyable experience. It was also the center of my social life. Thank you to all of those who made it so enjoyable.
I will not be attending the reunion due to international travel commitments but can be contacted at: ron_read71@hotmail.com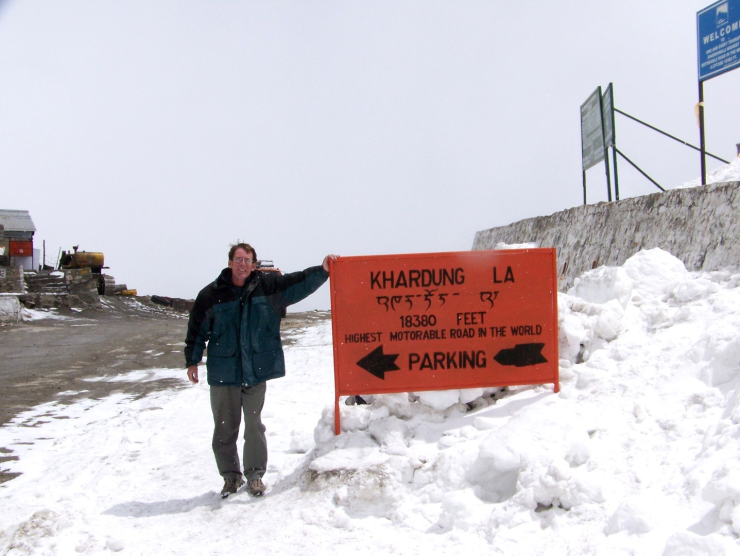 ---
Ted Izard
Graduated Oak Bay Senior Secondary 1965
Graduated BSc Physics 1974
Returned to UVic - Computing Science 1978-1980
Worked – BCSC/BC Gov – 1980
Retired - 2008
Married to Liga – July 2006
Resided at:
1170 Chapman Street, and
2875 Phyllis Street, Victoria
Currently Living in North Saanich (Ardmore) since 1982
Memories of camping at Pachena Bay on numerous occasions
Made several boat trips up the Sunshine Coast into Desolation Sound area
Attended many Dixieland jazz festivals since 1988 – Victoria, Sidney, Friday Harbour, Chilliwack, Sacramento, Penticton
Member – Victoria Alpine Ski Club - 1977-2002
Member – Capital City Yacht Club – 2001
Regularly attend Deep Cove Folk Club Friday evenings
---
Dave Suttill
Stayed in Victoria. Worked for the Historic Sites/Heritage/Archaeological Sites departments of the BC Provincial Government for 35 years researching mapping and recording historic trails and archaeological sites. Married Terri Ramsay in 1979. Have two daughters. Since retiring in 2010 have spent a lot of time hiking and climbing Vancouver Island's Mountains.
---
Dave Coombes
I worked for the Geological Survey of Canada and the BC Geological Survey most of the summers till I graduated, and then got on with the Environment and Land Use Committee Secretariat in 1974. With them, I did recreational feature and recreational soil and terrain carrying capacity for about 5 years and was then assigned to the Ministry of Environment in 1980. With them, I did lake and stream surveys and studied fish populations across all of BC, except for the Haines Triangle until 2002. Up to 1992, I did about 300 lake surveys but only got to do a few after I was assigned to manage contracts.
During the period from 1978 to 1992, since I did so much field work, I could take off for four months every other year and during that time I went to most countries in South-East Asia.
On one of those trips I met a young lady and was able to invite her to Canada. She liked it here and we have been married more than 26 years.
In 1992, I started on my Master's in Biogeochemistry and received my degree in 1998. In 2002, I was told that I was being retired and that ended that part. However, in 2000 I had started an immigration consultancy which is still going strong. Our daughter was born in 2008, and we look forward to more adventures.
---
Gord Petley-Jones - Pictures
Galiano Camping Trip - early 1970's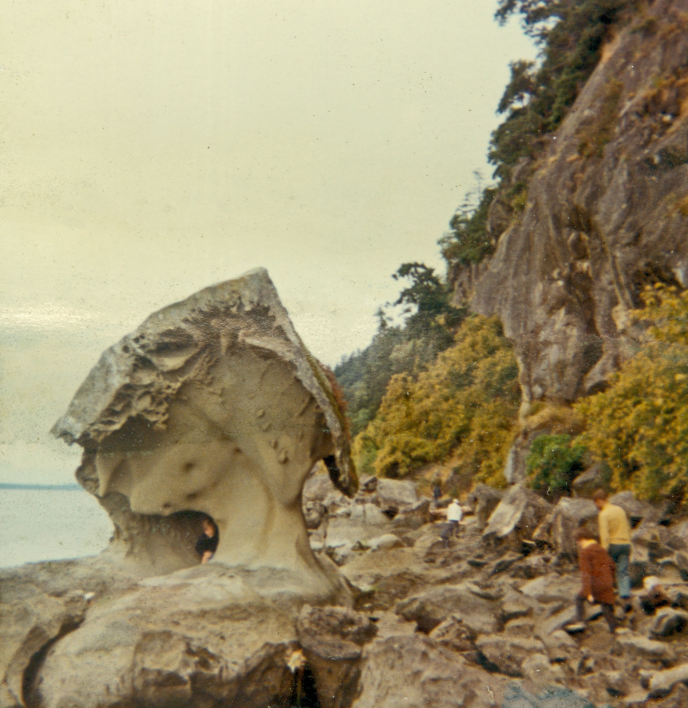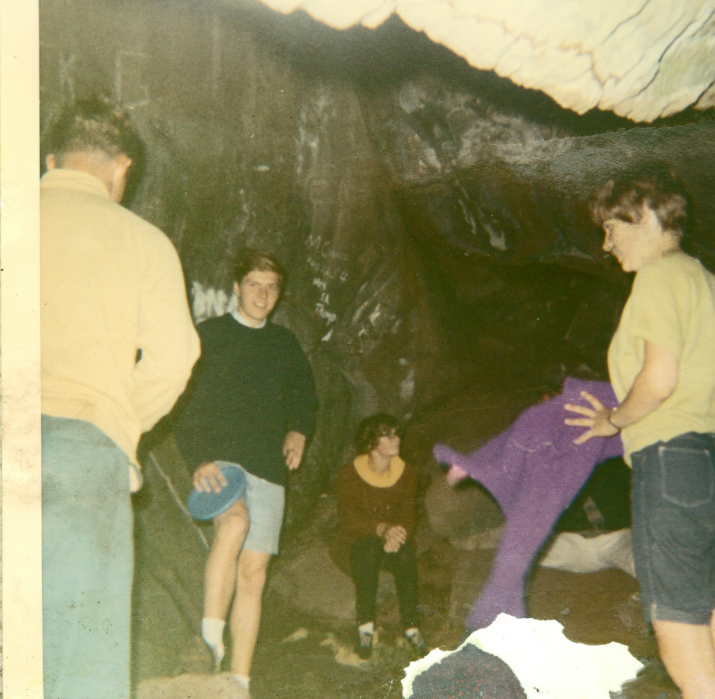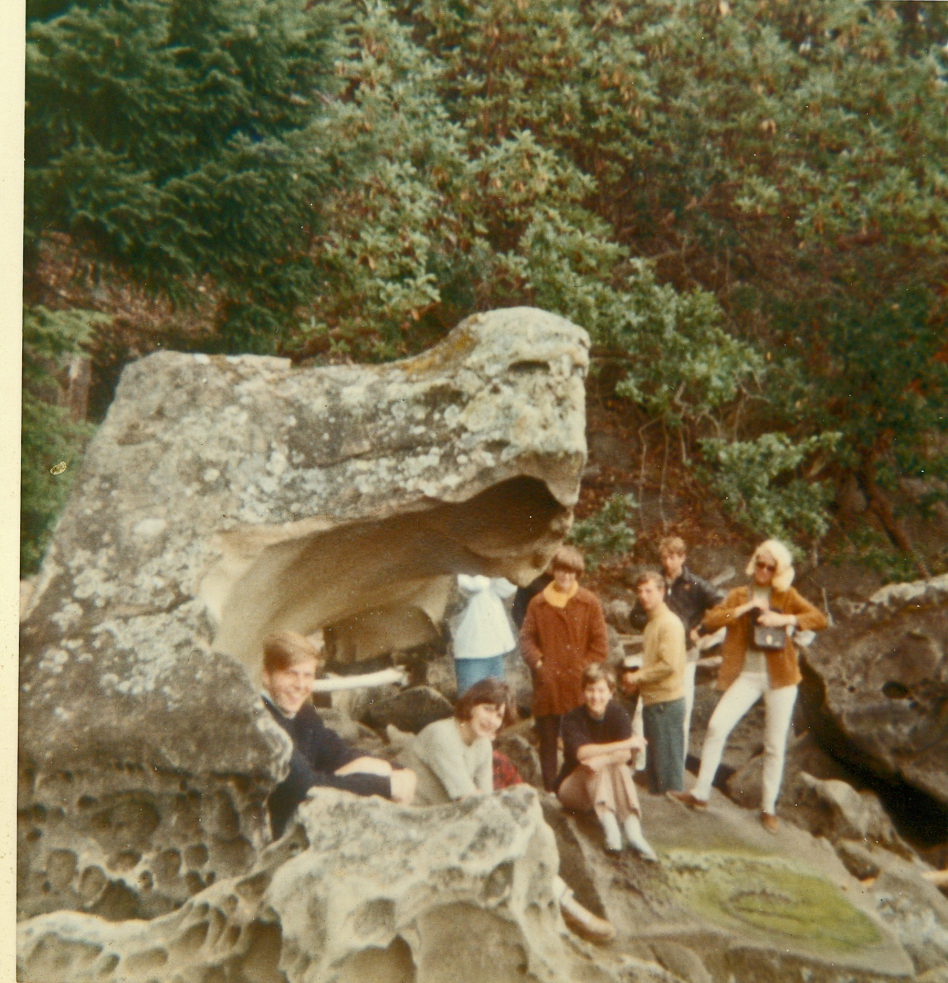 Ken and Linda Barton's wedding - August 1975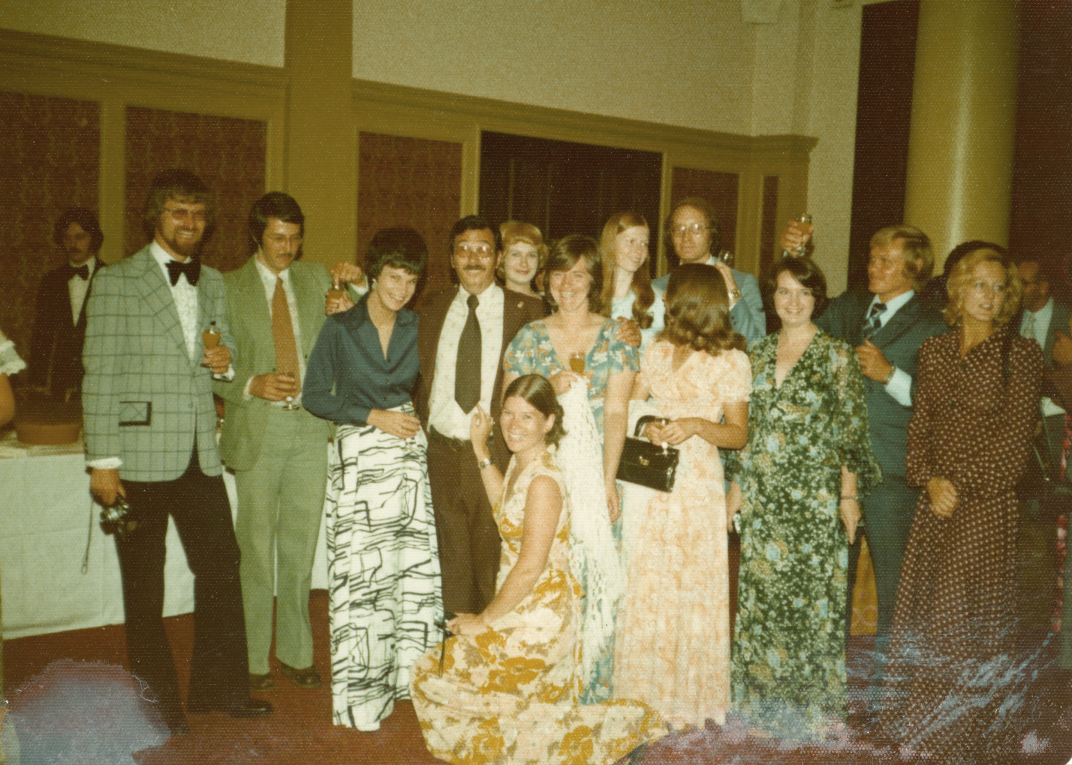 ---
ElizabethAitken (Stoner)
Ok..who am I? Originally I was Beth Stoner. I met Grant Malcom through the Outdoors Club. We married from Oct. 1973 and I worked at U of Vic as a Clerk typist during this time. Not much of an outdoors person but enjoyed outdoor hikes, etc. Well the marriage didn't last and in 1976 moved back to Victoria and worked at Mine Reclamation with the Provincal Government. Really enjoyed the working with mine reclamation and need to return mining activity when it ceased to useful land use.
Sometime later met a wonderful man who worked with the Ministry of Forest Deparment and married him. Ken and I sired three children and during this period I returned to U of Vic and received my BA in Child and Youth Care via correspondence in 1998. The only way to do it with a husband and three children! From there I spent 10 years plus working with special students in the elementary/middle school to help these children to become successful within the school system. Not an easy task!
After 37 years of marriage we parted ways and I moved away from Victoria to look after my Father in his late years and help supervise my Mother who is still living in a nursing home in Parksville. Now I go by Elizabeth Aitken (married name) and live in Lantzville on Vancouver Island. Love it!! My offspring have produced four grandchildren: Twins in Nanaimo and two others in Victoria. Very proud Grandma.
Looking forward to seeing people from my past. Not very often does one have the opportunity to go backwards in time. Thank you for all the organizers involved with this event.
ps. Still remember the Outdoors Christmas Party at the Stoner's house with Al Mikalishen dancing with my Mom. It was a blast. E.
---
Des Belton
After 3rd year at Uvic, I spent 8 months in East Africa. After graduating (BSc Biology/Ecology) I went back to work for BC Parks as a naturalist, as I had many previous summers. Met my wife Dawn working as a Naturalist at Manning Park. I worked for 18 months straight for BC Parks, then did a year teacher training at UBC. Moved to the Nass Valley in Sept 1975 to begin teaching elementary, grade 6 down to a 2/3 split, many years at the grade 4 and 5 level, my favorite. They know enough to be able to do fun things, and don't have the hormone hangups yet at that age. Most of the students were Nisga'a 1st Nation. We have 100s of kids from teaching, but none of our own. We made sure we did plenty of environmental ed and nature things with our students; we were relatively free to design our own programs and had autonomy in our own classrooms. This was one advantage of having left parks; if I had stayed, I would have been stuck with a desk job since the Socreds canned the Naturalist program. Friends in Parks Canada expressed frustration with the bureaucracy and politics, so it's just as well I didn't move in that direction.
Finally. a dream house and property on the Tseax River overlooking the Lava Beds Provincial Park became available, convincing us to stay. I retired 3 years ago, but still sub at local schools occasionally. My wife Dawn is an accomplished nature based artist; she has kept up her painting and drawing throughout her teaching career. We remodelled a huge old shed for her to use as an art studio. We've also been busy with gardening and our many dogs. I've had the usual house repairs and renos to keep me occupied too.
Since retiring, we have run the Nass Valley Nature Kids club, with 6 to 10 events a year. We belong to many environmental activist groups such as CPAWS, BC Nature, and Nature Canada. We make donations to Ecojustice, the Suzuki Foundation, Nature Conservancy etc. In addition we write letters, sign petitions, and attend protests about issues such as Enbridge's Northern Gateway (tar sands pipeline project) and LNG pipelines, which approached us to put a line through our property (Trans Canada Pipelines). We said no; they were forced to reroute it. However, the Nisga'a government signed on for multimillions of $, so it is set to be built through the middle of the Lava Beds Memorial Park. Christie Crunch was kind enough to exclude 50+ hectares from the park to facilitate construction. We thought we were isolated, but no place is safe from "development" these days. Since we live 1 1/2 hours from the grocery stores and businesses in Terrace, we have to drive in every week or two, but the road is paved now. We currently monitor amphibians and reptiles for Northern Amphibian Naturalist Society (as well as bats for the past 2 years). We have personally experienced climate change, from a rainforest to drought conditions for the past 3 years
---
Sally and Graham Ramsey
We graduated from Uvic in 1969 and were married in Smithers in the summer of that year. We returned to the Island at the end of the summer and moved to Duncan where Graham had employment as a social worker with the provincial government. Our first son, Christopher, was born in 1970. We moved to Nanaimo in 1972 when Graham got a transfer to work at the old Brannen Lake School (the provincial institution for "delinquent" boys). Our second son, Stephen, was born in 1973. During this time Sally was a stay at home mother but she did work as a substitute teacher from time to time.
We moved to Sooke in 1978 for a couple of years where Graham was assigned as the District Supervisor for the Ministry for Children and Families (it wasn't called that in those days) but returned to Nanaimo in 1980 when the opportunity presented itself. Graham supervised one of the Nanaimo MCF district offices for a number of years and then became the provincial consultant to the Nuu-chah-nulth Tribal Council as they went through the process of developing and operating their own child welfare system. As the boys got older, Sally took on more substitute teaching and eventually took on a permanent part time position in the District.
We both retired in 2002 and we have remained in Nanaimo. Graham is an avid golfer and curler and Sally is a long time member of the Malaspina Choir. She was also very involved in recent years as an activist in having a large piece of property slated for real estate development within the Nanaimo city limits designated a park. We still have a cabin at Sproat Lake that Graham's parents purchased in 1959 and we still spend a lot of our summer there. We have travelled a lot in Central and South America as well as making frequent trips back east to see our family. We have a very active life as we are addicted to border collies and are currently enslaved to our 4th one, Dougal, who is two years old. We also enjoy gardening and painting and Sally is an avid photographer.
We have 4 grandchildren. Our son, Chris, lives in upstate New York with his wife Jen and his children Laine (14) and James (11). Our son, Steve, lives in Montreal with his wife Catherine and his sons, Fergus (5) and Giles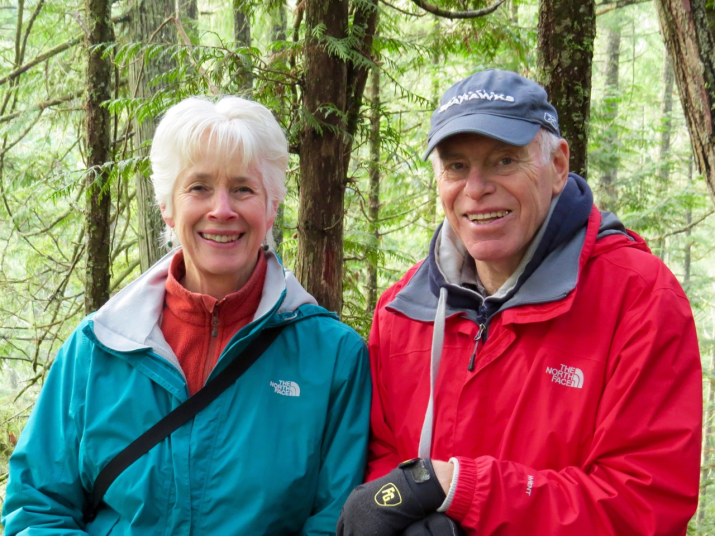 ---
John Pendray
Hi everyone. After professional year at UVic, I taught school in Mackenzie and Prince George for 7 years, and then in Kelowna until I retired a few years ago. Along the way I married my wife Sue, and we have three kids, who have now collectively produced six grandchildren so far, with at least one more on the way. Despite yard work and grandchildren in Kelowna, we find time to do some traveling and to hang out at Sue's family cabin. I also continue to spend as much time as possible hiking, backcountry skiing, and mountain biking in the BC wilderness, as well as skiing at Big White and cycle touring in the summer. I'm looking forward to catching up the UVODC gang in September!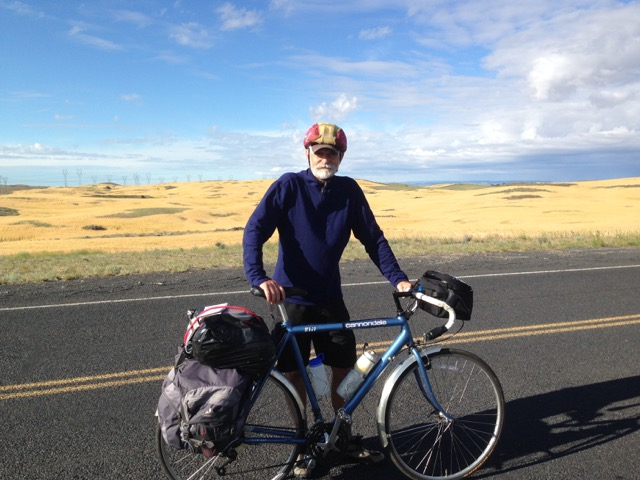 ---
Peter and Sharon Genge
Peter Genge and Sharon Genge - We got married in 1970. Sharon worked as a social worker until 1978 when our daughter was born. Peter went to UBC School of Architecture, but took a break after Emily was born. In 1980 our son Jim was born and we all packed up and moved to Vancouver for Peter to finish his degree. We thought it was a temporary move but we ended up selling our house in Victoria and settling in Vancouver. Peter worked as an architect at several private firms before moving into the public sector. He worked for the Board of Parks and Recreation, BCIT, Vancouver School Board and finally Fraser Health Authority until his retirement in 2013. Sharon returned to work after the kids were grown up and became a Recreation Programmer for the Vancouver Board of Parks and Recreation. She retired in 2012. Our daughter lives in Victoria where she works as a Sterile Supply Technician at the Royal Jubilee Hospital. Our son lives in Medicine Hat, Alberta with his partner and one year old son. He is a Senior Planner with the city. We are enjoying our retirement, having the time to pursue our hobbies and do some travelling.
---
Brian and Delores Morin
Well, I attended UVIC socially from September 67 to 1971 and enjoyed many outings with the Outdoors Club over those years. I moved from Ottawa to Victoria and took a job with the Province of British Columbia in 1967. I was the director of Facilities Services for the Ministry of Attorney General when I retired in 2003. I then went back to work under contract for another 10 years. I know not very smart!
However I was smart enough to marry Dolores Weir from Dawson Creek in December 1971. We have three children and four Grand Children and all of us still reside in Victoria.
I am looking forward to seeing old friends and am saddened that Bob Ennis, Dave Phipps, Lynn Bissell and Gillian Senior are no longer with us for this event.
Brian Morin
---
Patricia Skidmore
(Note: As per Patricia's request I have contacted Murray Coombes to see if it's Ok to share with you his part in Patricia's life story. He has said that it is not a problem.)
I spent one year at U Vic - 1969-1970
In retrospect - perhaps I should have carried on - but - I got married to my then best friend - Murray Coombes - but that only lasted 17 days - before I ran off with the best man - Hubert Havelaar.
Hubert and I were together for the next 12 years - 8 of those years were spent living and travelling the BC coast on a small 26 foot sailboat - foraging and living on as little as possible (as yet - and unpublished book "Brown Rice and Billy Goats")
We had two wonderful sons together - Joshua in 1976 (Vancouver firefighter) and Fletcher in 1978 (BC Paramedic)
In 1977 we sold the boat - and moved to Denman Island to build a larger 36 foot boat.
It was launched in the fall of 1981.
We split in April 1982.
Cortes Island was now home.
I spent the next 2 1/2 years commercial fishing with my partner John - tragically - he was taken in a big storm off the Brooks Peninsula in October 1984. (A song was written about him - by Salt Spring Islander, Kathy Stack. It is called Long John.)
In 1986 - as a single parent - I gave birth to a 3rd son - Jack Weyler (- the father - Rex Weyler of Greenpeace)
So I buckled down and concentrated on raising my three sons.
I did various jobs - working at Hollyhock on Cortes for a while, in home day care, a home based sewing business.
In 1988, I moved off Cortes Island and went back to Denman Island. My oldest son Joshua had to bus into Courtenay for school - so after a year - we moved into Courtenay to make everyone's life easier.
When Joshua graduated - I realized that one day - parenthood would no longer be a full time job - so I signed up at North Island College in Courtenay - to take a Women's Studies Diploma.
I enjoyed the experience so much that once Fletcher graduated in 1996 - I moved to Victoria and enrolled back at UVic - getting my old 1969 student number back - and even getting credits for the courses I took back then.
I majored in Women's Studies - and joined the Arts and Writing Coop - a great experience - jobs at the Art Gallery in Penticton (photographing their permanent collection) and the Women's Shelter in Penticton, then at Craigdarroch Castle for a summer - organizing their photos, and the BC Geological Survey Department of the Ministry of Energy and Mines and the Forest Practices Board.
While taking my WS degree I was able to work on family research - so I started looking into British Child Migration - few at the university had heard of this - but I was given a lot ofencouragementand support to pursue the research.
I worked for the UVic Women's Studies Department for a while - and I work at the UVic Law Faculty coordinating one of their programs. But there came a time when I realized that I needed to work on my own research so when my contract ran out - I left.
My mother Marjorie had been removed from her family in 1937 and sent to Canada to the Prince of Wales Fairbridge Farm School near CowichanStationon Vancouver Island.
While I was growing up - my mother would not talk about her past or why she was brought here while most of her family remained in England.
I kept digging and wassurprised to discover that British Child Migration had a 350 year history - it began in 1619 when children were rounded up and sent to Richmond Virginia to work - and did not stop until the mid 1970s with children being sent to Australia by various sending agencies - many were sent to one of the two Fairbridge Farm Schools still operating in that country until the 1980s.
Canada accepted children from the 1830s up until 1948, when the last party of children arrived at the Fairbridge Farm School onVancouver Island - however I have heard that a few children still trickled in after that time.
Over 120,000 British children were sent to Canada during this time - many were mistreated and most were used for their labour. I have a list of over 110 sending agencies that made it their business to ship children to Canada.
329 children were sent to the Prince of Wales Fairbridge Farm School between 1935 and 1948.
95% of the children were not orphans.
Some of the children were as young as 4 years of age.
My mother Marjorie turned 11 on the journey over.
As I gathered information - I was dumbfounded by the extent of this practice. At some point I thought - if I know so little about this - and our family was directly involved - then what are the chances that the 'general public' also know little about this? I realized that what I had gathered could likely be put into a book.
"Marjorie, Too Afraid To Cry" was published in late 2012 - early 2013 (Dundurn in Toronto)
This book tells about Marjorie's journey to Canada and opens with my mother and my return to London to be present at the Formal Apology given by the then Prime Minister, Gordon Brown to all child migrants over this 350 year period.
Gordon Brown said: "Until the late 1960s, successive UK Governments had over a long period of time supported child migration schemes. They involved children as young as three being transported from Britain to Australia, Canada, New Zealand, South Africa and Zimbabwe. The hope was that those children, who were aged between three and 14, would have the chance to forge a better life overseas, but the schemes proved to be misguided. In too many cases, vulnerable children suffered unrelenting hardship and their families left behind were devastated. They were sent mostly without the consent of their mother or father. They were cruelly lied to and told that they were orphans and that their parents were dead, when in fact they were still alive. Some were separated from their brothers and sisters, never to see one another again. Names and birthdays were deliberately changed so that it would be impossible for families to reunite. Many parents did not know that their children had been sent out of this country.
The former child migrants say they feel that this practice was less transportation and more deportation-a deportation of innocent young lives. When they arrived overseas, all alone in the world, many of our most vulnerable children endured the harshest of conditions, neglect and abuse in the often cold and brutal institutions that received them.
When I was first made aware of this wholly unacceptable practice, I wrote to the Prime Minister of Australia to urge that together, we do more to acknowledge the experiences of former child migrants and see what we could achieve. It is right that today we recognise the human cost associated with this shameful episode of history and this failure in the first duty of a nation, which is to protect its children."
Gordon Brown provided a forward for my book.
I have written a sequel to this book -"Marjorie, Her War Years." It opens in 1939, but it documents her 5 years at the Farm School - 1937-1942 - it was - for the most part - not a happy time - as she was always at'war'with being removed from her mother's care.
An independent study was made by a BC Provincial Social Worker - and her report did not not have a lot of positive things to say about the way the institution was run: "They [the cottage mothers'caring' for the children] lack sensitivity to the emotional needs of children,-scream and shout at the children constantly and are imbued with the Fairbridge doctrine that these children are different from Canadian children and must be shouted at and disciplined firmly, and that you must not be too kind to them."
So now I have moved to Salt Spring Island - and once I am settled - I will see what I can do to get the two books I have finished - published.
My two grandsons live here as well now, they are 4 and 6 - and I spend a great deal of time with them - today we picked blackberries and made jam together.
patriciaskidmore.com
(Patricia is unable to attend the reunion due to several other commitments.)
---
David George Phipps
Ilene Phipps wanted to have Dave's obituary included in our biographies
PHIPPS, David George 5 December, 1948 - 29 March, 2016 David passed away at home in George Town, Grand Cayman, peacefully, free of pain and surrounded by family. He had fought a brave battle with Stage IV Pancreatic cancer. He continued to run his electrical business and work in his beloved garden. He maintained his legendary sense of humour and positive attitude throughout his treatments.
David was born in Victoria, B.C. to English parents, Joan Ellen Breault (formerly Phipps) and the late Frank Harold Phipps. He lived his early years on Helmcken Road, attending View Royal Elementary and Macaulay Elementary before graduating from Esquimalt High in 1965. David attended the University of Victoria, studying Maths and Physics, where he was active in the Outdoors Club. He was a proud member of IBEW and worked as a Journeyman Electrician in Victoria and many locations throughout B.C.
In 1972 David married Ilene Rose McLeod of Meadow Lake, SK. They moved from Metchosin to Grand Cayman in 1982. Their daughters Courtney and Chelsea were born and raised there, before attending boarding school at St Michaels University School in Victoria, followed by studying at Canadian Universities. David was always very proud of his daughters' many successes.
He was a founding member of the Rotary Club of Grand Cayman Central, where he was involved in every project and maintained perfect attendance for 30 years. Apart from Rotary, he coached Little League, assisted with Girl Guide projects, and Cayman Prep School fundraisers.
David was predeceased by his father Frank Phipps in 1966 and his stepfather Adrien Breault in 2012. He is survived by his loving wife Ilene of the Cayman Islands; his daughter Courtney Wright and her husband Craig of Sydney, Australia; his daughter Chelsea Phipps and her wife Phelan Fletcher, of Akron, Ohio; and his Mother Joan Breault of Comox, B.C. He is also mourned by family and friends around the world. He touched many lives during his too short life. A friend in Cayman said "Anyone who knew Dave was lucky".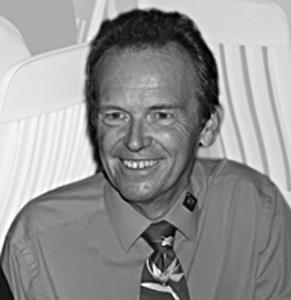 Also, here is an email I received from Ilene that she wanted me to share with you.
From: Ilene Phipps <ilene64@icloud.com>
To: Bonny Creak <damama_creak@yahoo.ca>
Sent: Sunday, July 31, 2016 12:28 PM
Subject: Re: U-Vic Outdoors Club - The Early Years



Hi Bonny,
Does anyone know when David joined the ODC?
I know he started at UVIc in 1965, but I see no mention of his name in the 1965-1966 news that Glenda Shaw posted.
If anyone is interested, David's obituary is online of the times colonist with room for comments. I missed out the part about being a Queen Scout, and have managed to post that twice. Oops...
I have been enjoying glorious weather in Victoria and Comox for the past 2 weeks. Many members will remember David's Mum Joan, who lives in Comox and will be 90 in November. She is in very good health, and still very witty, like her son!
Kind regards,
Ilene Phipps
---
Barb and Barry Campbell
Here is a brief history of the Campbells since UVIC:
After graduating in 1970, Barry found work as a naturalist at the fledgling Pacific Rim National Park. Barb graduated a year later (with of course many adventures on the west coast during that last year of study) and worked for one winter in Victoria with the Frozen Sea Research Group. We married in the spring of '72 and, other than 8 months working in Banff, we have been living on the west coast (Long Beach, Ucluelet and Tofino) ever since. Our son Mike was born in '75 followed by Ben in '79. In 1981 we built our first house at Chesterman Beach where we were lucky to raise our boys in the days when that beach was a real neighbourhood. With cuts to the interpretive service looming, Barry transferred to the warden service and resource management in the 90's while Barb worked with Vancouver Island Regional Library and School District 70. Barry was also active with the Tofino volunteer fire department and Inland Search and Rescue. It was inevitable that after leaving for UVIC and UBC our boys would settle and raise their own families elsewhere - Ben as a city planner in Whitehorse and Mike as a software engineer in Victoria - but thankfully the west coast calls them back with their families pretty often. The years since our retirement have been busy with some travel, much volunteer work, as much grandparenting as we can arrange and, until recently, exploring Clayoquot Sound in our small boat. Barry has had challenges with lymphoma the past couple of years but we're looking forward to seeing many old friends in September.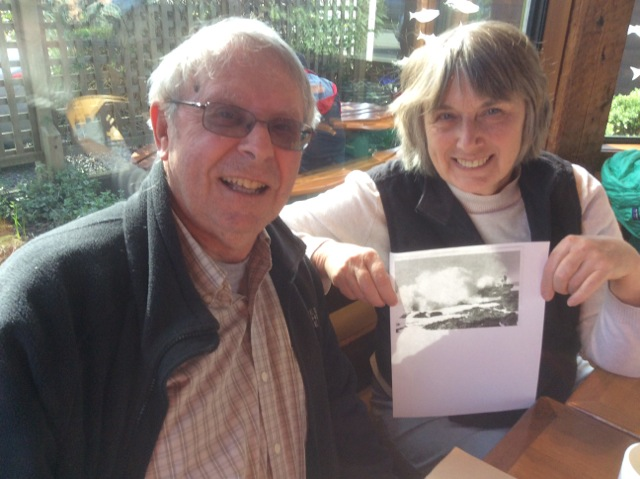 Barry passed away December 29, 2016. Here is a link to Barry's obituary in the Times Colonist.
---
Brian A. Trueman
I graduated from Uvic in the Fall of 1975 with a B.A. in History and English. Yeah, I know that is super useful. I loved going to Uvic and the UVODC and in many ways it was the best time of my life. My fellow UVODC members opened my eyes to a totally different world from the one in which I had grown up.
After graduating I purchased a used University of Victoria van and rebuilt the motor and headed out for the Oil patch. I got as far as Williams Lake where I stopped in to visit with a friend and stayed for two years back in my old occupation of working in the plywood industry. While there I was a member of the Search and Rescue organization and went out on a couple searches and took some training in heavy rescue.
After a couple years I noticed an ad in the paper for B.C.I.T. Lumber and Plywood. So off I was to school again. Graduated out of my Lumber and Plywood tops in my class (due largely to my ability to write and learn, thanks to University).
Once again I was off adventuring in B.C. and I was hired to help build a new Veneer Plant in Lillooet. I was responsible for the installation of all in ground site services and after construction completion I became a supervisor. Three years later I married Jackie Raabe (a friend of my sister) and together we had Arianne (named after the French Rocket) and two years later we had Aaron.
In the mean time I again found myself out of work with a wife and two children. We ended up moving to Ladysmith where we purchased an extremely old home for an extremely low amount ($23,900.00). Still out of work I did odd jobs and drove a delivery truck, then once again the forest industry beckoned and I went to work for Coastland Wood Industries in Nanaimo. I've been employed by them since January 18, 1988.
In 2004 Jackie and I separated and were divorced and I ended up with the house and later on my puppy (Teddy). My beautiful daughter is an insurance agent in Chiliwack. My son is a graduate of Uvic and is an electrical engineer now living in Brisbane Australia.
I restarted my travels after my divorce and since then have visited twenty countries including Indonesia, Malaysia, The Philipines, Greece, Germany, Costa Rica, Egypt, Jordan and Israel.
I have been an avid scuba diver since learning at Uvic and have some 600 dives under my belt (mostly in B.C.), but including the Red Sea, The Great Barrier Reef, and Mexico.
Totally loved my time in the UVODC. Just so you know I haven't been idle in the last forty years this is a picture of me last year.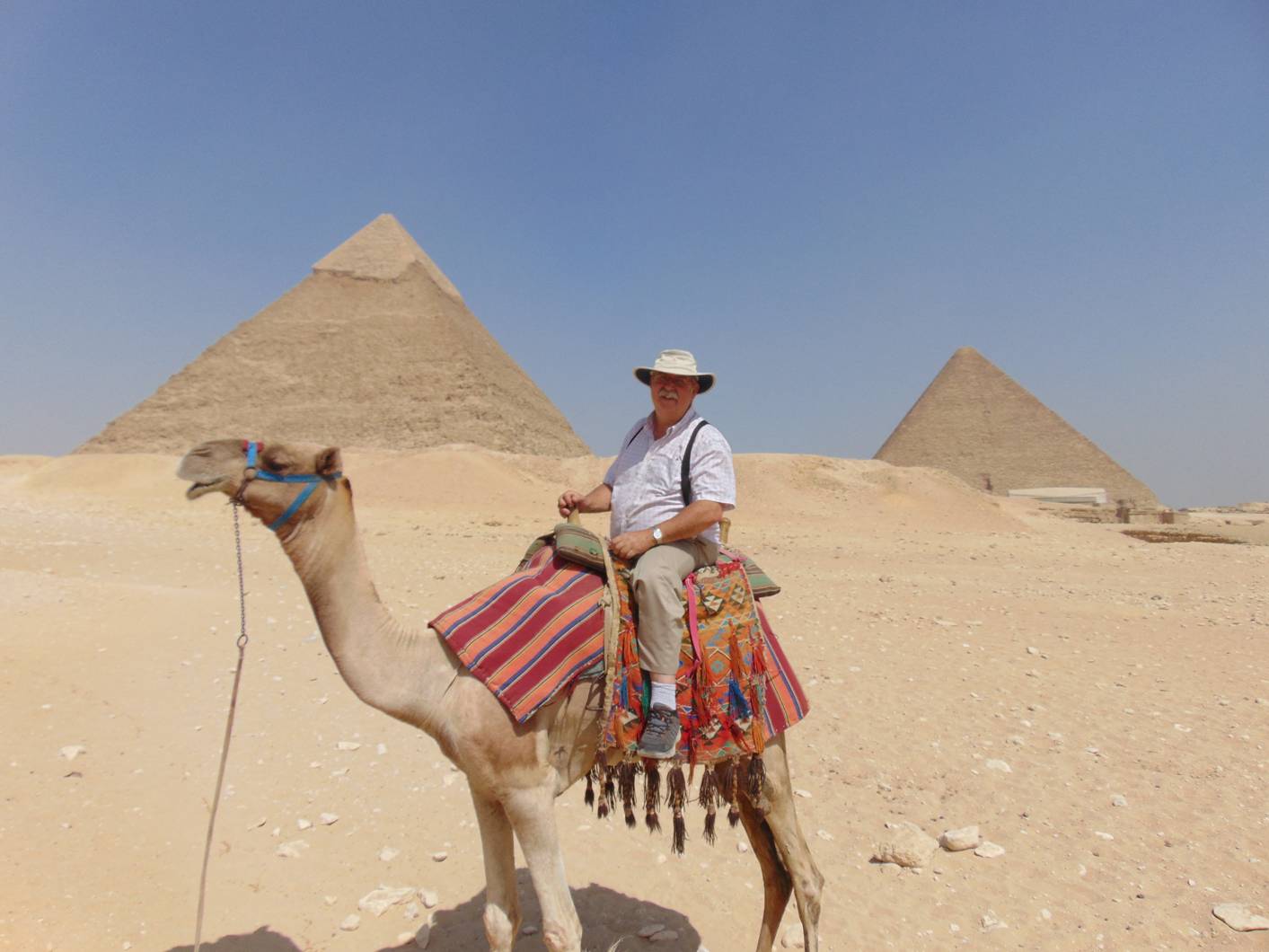 ---
Dave Palmer
Greetings from the East Coast where there are three seasons – winter, black fly season and construction season.
It has been amazing reading everyone's incredible life stories – some so fantastic that I feel some parts must have been made up.
Here is my humble story, all of it true. After graduation in Spring of '72, I worked with Jan Havelar and Dave Suttil for the BC Parks Branch trying to find lost sections of the old Dewdney Trail. It was a great job, far better than the West Coast Trail job where you actually had to perform physical work. One day, somebody asked Dave Suttil what we did, and he said, "We ask old people questions".
Dave stayed on at the Parks Branch but I had itchy feet and departed for Mexico in my dilapidated '57 VW Van at the first opportunity with Art Eby (anybody heard tell of him?) We limped our way into Mexico City on 2 and a half cylinders and decided to give the van to the Mexican government so we could get our departure visas cleared. Art returned to BC while I carried on through Belize, Guatemala, El Salvador, Nicaragua, Costa Rica, Panama, nearly getting shipwrecked on a deserted island. Then it was on to Columbia, Venezuela, Brazil, back to Columbia, Ecuador, Peru, Bolivia, Argentian, and Chile, hitchhiking all the way. Chile was nasty because Pinochet had just overthrown Allende and there was a 9 pm curfew in place. That meant you had to sneak home from the bar through back alleys to avoid the authorities. Terrible inconvenience. Turned around in Isla Chiloe and headed back to Canada via the $89 Aero-Condor gringo flight from Bogota to Miami.
The goal was the shortest route back to Canada and a job so I could get back home, but one wrong turn landed me in Boston, and a second in St. Stephen, NB, where an overzealous Canada Manpower officer got me a job (if I agreed to stay the summer) at Conley's Lobster, which was the world's largest live lobster packing plant until it burned down in August of '74. (It wasn't me).
The rest, they say, is history. Met a girl, got married, had 2 kids, bought some land, built a house, and fell in with a bunch of back-to-the-landers.
In order to support our ambitious plans and measly subsistence living, I worked a variety of jobs, including driving truck, climbing and pruning elm trees, working in the woods, unloading frozen tuna fish on a 12 hour shift (lovely job), reloading bags of potatoes (better still), unloading 45 gallon drums of frozen orange juice concentrate for McCains (best of all), got into the firewood business, became a bee inspector for the province, had a few construction jobs, and then when I nearly got my face re-arranged in a sawmill accident, decided it was time for some higher learning.
That took me from St. Andrews to Fredericton where I worked on my MSc.For. in the winter (got frostbite on one outing) and as a game warden in the summer and fall, where I was assigned to blowing up beaver dams since I was the only one on the crew with a blaster's license. (still comes in handy).
The same year that I graduated (1988) marriage #1 broke up and I wound up with the house and kids, and my first full-time somewhat "normal" job, which was manager of a fractious woodlot owner organization, where I stayed for 26 years until retirement in 2014. There was never a dull moment on the job. When we weren't fighting government or the forest companies, we were fighting among ourselves.
Re-married a lovely girl named Doris Demers who had been my companion for over a decade in 2002, and we, and our blended family of 4 children and 3 grand-children are happily together to this day. We bought a fabulous property on the Saint John River in 1991 and built there the following year. Also acquired a 180 acre woodlot at about the same time, which has provided many happy hours of activity. Since her retirement 12 years ago Doris has been teaching yoga, and I have had a second job as a free-lance writer for Atlantic Forestry Review which I am still engaged with.
The travel lure has mostly taken us to Latin America, although we had oneremarkable and unforgettable holiday in India.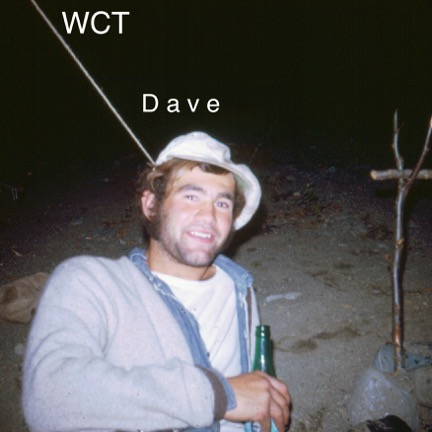 eMail from Doris Palmer:
David requested I send a photo of both of us since he didn't have time to do it......so this is what I came up with..... it is both of us in Mexico doing the famous train ride in the copper canyon in 2014.....
He can explain it when he sees you this coming weekend!!....have a great time, it should be a blast ....
Regards,
Doris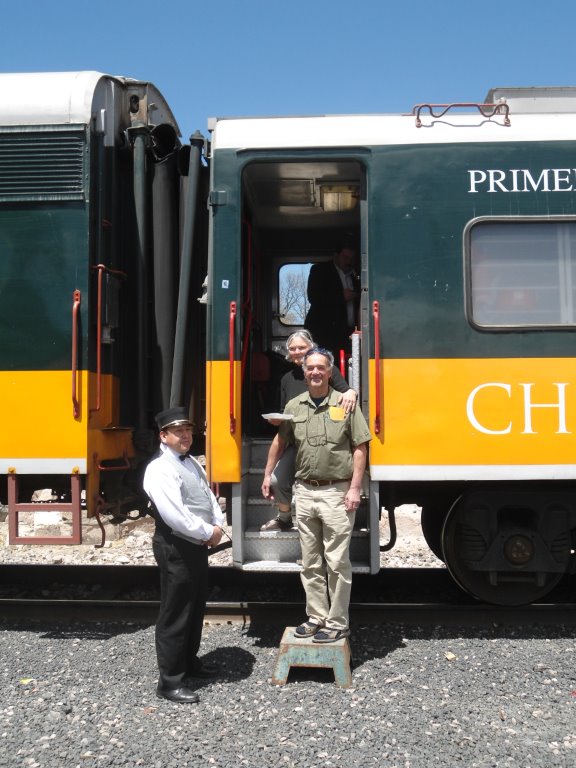 ---
Keith Thompson
I was in the outdoors club from 1965 to 1968 and enjoyed the trips to the Singing Sands Resort at Long Beach, Pachina Bay , Sombrio Beach, Strathcona Lodge as will as the parties in Victoria. After graduating from UVIC in Political Science in 1969 I attended UBC Law School and graduated in 1974.
I met my wife ,Bev Drane in April ,1971 when I picked her up hitchhiking to work one morning on Cook Street in Victoria. We married 3 years later and will celebrate our 42nd anniversary in December. We have one son, Alistair, who lives in Ladysmith and is a carpenter.
Our plan was to move back to the Island and practice in Victoria or perhaps Courtenay but within 3 months of being called to the bar in 1975 I formed my own firm in Vancouver. Our plan to return to the Island was put on hold for 29 years. We lived on the North Shore and I specialized in Real Estate Development and Commercial Financing. We never really enjoyed living in Vancouver… too many people, too much traffic congestion and too much rain. In 2003 I decided that I didn't want to work full time in a Vancouver law office and was pretty sure there was sufficient technology to allow me to work part of the week from my house. In 2004 we sold our North Shore residence, bought a condo in the Lower Lonsdale area of North Vancouver and a house on the Fairwinds Golf Course in Nanoose Bay B.C. For the next 8 years I split my time between Vancouver and Fairwinds. As the years flew by I spent more time at Fairwinds and less time in Vancouver and the technology also improved substantially.
I retired in 2013 and we still live at Fairwinds. We enjoy travelling, and gardening. I enjoy fishing, play a lot of golf and a fair amount of bridge. I am a director of Peoples Trust Company and the Kiwanis Village in Nanaimo BC.
Life is good.
---
Linda Naess (Rundell)
I have many fond memories of the UVODC and all the good friends I made, even though we don't keep in touch as much as we should.
When I finished university, I spent a few years working in Victoria before beginning my teaching career in Taylor, BC in 1974. I spent a year there and then taught in Merritt for two years, where I met the love of my life, Ray Naess. We moved to Prince George in 1977 and were married there and have stayed married for 39 very happy years. We like living in the north, and have made many good friends. We have enjoyed the outdoors life and have hiked, camped and visited many of the lakes, rivers and trails in the area. We played slo-pitch softball for many years and golfed as much as we could in the summer months. We did some travelling, much of it in BC and Western Canada, and parts of the United States. We also became ardent – and long-suffering! - Prince George Cougars fans.
I taught elementary school in Prince George, mostly intermediate grades until 2006, when I became President of the local teacher's union. It was an interesting job which I enjoyed very much. We both retired in 2011 and keep busy with friends and some travelling. I have found time to curl and golf again, as well as some walking, gardening, book clubs, bridge, fitness classes, Tai Chi and generally enjoying life.
I am President of the local Botanical Garden Society. We are currently working on a project to establish a botanical garden at UNBC. I will be taking a course in the winter to become a Master Gardener.
We do some travelling but as Ray's health hasn't been good the past few years we take shorter trips closer to home.
I am looking forward to the weekend!!
---
Brian and Diane Pinch
I joined the Outdoors Club in September 1975 when I started at UVIC and met Brian on a daytrip to Heather Mountain by Lake Cowichan. He had been a member since 1971 and president the year before. I was not an outdoors person prior to that and went on my first overnight trip to Mount Arrowsmith on the Thanksgiving weekend. There was a storm overnight with lots of wind and snow. However, Brian was prepared with all the proper equipment and had even made me a steak dinner with wine while we were curled up warm and content in our tent. Others did not fare so well that night. When we woke the next morning we found one tent had been shredded and some had left the campsite in the very early hours to get down to warmer elevations. We are still friends with some of those sufferers and look forward to seeing them at the reunion. The club was a great bonding experience and made for lasting friendships.
Brian and I remained a couple since that first hike, got married in 1977, and will celebrate our 40th anniversary next year. I graduated in 1980 with a degree in psychology and linguistics and went to UBC to do a Master's degree in speech pathology. I came back to Victoria and worked for 13 years as a Speech Pathologist at the Gorge Road Hospital with adults who had speech and language problems following a stroke or head injury. I then went back to UVIC to obtain a Ph.D. in Clinical Neuropsychology and worked as a Neuropsychologist for 12 years specializing in geriatrics, mainly assessing people for possible dementia.
When I met Brian he was just starting his Master's degree in political science but a couple of years later switched over to a Master of Public Administration specializing in economic analysis and decision-making. During summer jobs and after university Brian worked for the provincial government in a variety of capacities. His specialty was evaluating large resource projects such as hydroelectric projects on the Stikine and Site C when it was originally considered for the Peace River.
However, Brian did not like the bureaucracy of government, switched to the private sector and became a Financial Advisor. He did this from 1985 until retirement in 2008 at age 55. He aligned this with his life-long environmental activism, notably through the Sierra Club, by becoming a pioneer in socially responsible investing. Over the years he was quoted in the Globe and Mail, the National Post and Macleans Magazine.
Now that we are retired we remain active hikers, backpackers, skiers and naturalists. For example, this year we lived on the ski hill at Golden, BC for January through March, our fifth winter there. We also have an RV and often go off for a month or two and use it as a base to hike, most often in U.S. southwest (we especially love the parks in Utah) or as far north as the Dempster Highway in the Yukon. Highlights this year were a 6-day backpack of the Grand Gulch canyon system in Utah and a 5-day backpack along the Rockwall Trail in Kootenay National Park.
When not outdoors, we both exercise a lot and I am learning to paint, particularly in watercolour. Brian has taken up the guitar and singing and has dreams of becoming a busker someday.
It will be great to see everyone and look forward to catching up!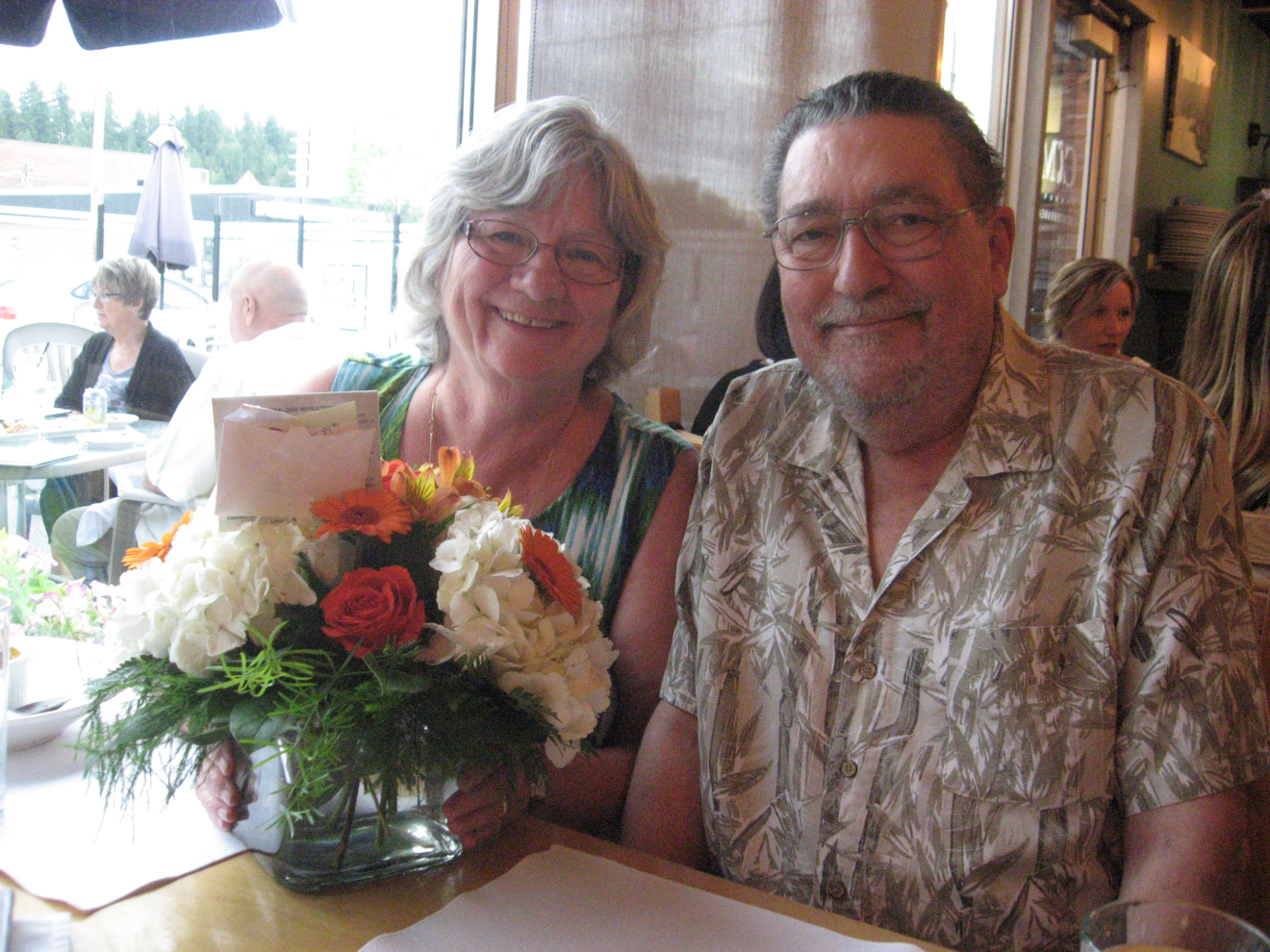 ---
Ken and Brenda Milbrath
Hey past UVODCers. Brenda and I send along our very best wishes and thoughts. The timing of the reunion just didn't work for us this time as we're in Europe.
My 4 years with UVODC were some of the best years of my life. Tons of happy (and a few not so happy) memories. I know I grew a lot during those formative years and I bet most of you have made changes for the better.
I was recently talking about the Club to a friend. Back in those days (early 70s), club funding was based on the number of active members. Well, the first overnight trip for me was to Pachena Beach, thanks to President Al. A few hardy souls went backpacking to Cape Beale, several more did day hikes, but I swear it seemed like the majority were couples shacking up in their tents. I think many of the girls in particular, stilled lived at home. Here was an excellent way to escape curfews with a University sanctioned party weekend! When I started getting more involved, and eventually became Prez (probably only because I lived in the UVODC Party House on Amelia), I have fond memories talking up these sanctioned getaways to prospective members during Clubs Day. Not surprisingly, we became the largest club on campus with about 300 members, some of whom actually liked the Outdoors :-) We actually had to think of creative ways to spend all the money the Student Society gave us, including lots of camping equipment, canoes, all expense paid trips to Washington State, Strathcona Lodge, etc. and ferry trips to the North Island. But the parties! OMG. Were you around when Mark Hobson came to our Hallowe'en Party dressed as the Oh No!! Bird? Or when Art Eby, bless him, decided bush whacking through salal was more "interesting" than sticking to the trail during the first daytrip to Iron Mine Bay? Of course my luck was changed forever when I met Brenda. I understand it was a tradition that every past President, met and fell in love with a UVODC member.... something about sanctioned getaways?
Well the UVODC experience must have clicked with Brenda and I. Our 4 kids were shown every secret gem we were shown on Vancouver Island. And now in their 30's they have the camping bug. Bren and I try to get out as often as possible but now in the comfort of a camper.
I was recently honoured in the local Oak Bay rag as a "Trail Blazer" with my creation of the urban Pemberton/Centennial Trail. The Centennial Trail in Oak Bay is a wonderful hike, especially the Anderson Hill to Gonzales Hill section. I'm pushing very hard for the City of Victoria to help dedicate a section along Dallas Rd to tie in the Centennial Trail end at Crescent and Foul Bay to the Lekwungen Long House on Beacon Hill to the David Foster Walkway. The tricky part goes straight through Rockland, but we'll get there. I'm also on the Board of the Vancouver Island Spine Trail Association. This will be a trail connecting Victoria to Cape Scott along an interior route. About half of the 700km trail is complete. We have lots of dedicated volunteers up and down the Island. You can find and follow us on the web.
We'll raise a glass to the UVODC in your honour.
Again we wish everyone much love and peace.
Ken and Brenda Milbrath (nee George)
---
Tom Muirhead
Attached is a description of a few of things I have been doing.
Our trip to Poland was planned several months before I heard about the Outdoor Club reunion. I had a hip replaced in October 2015 and I am walking many kilometers these days.
I have lived in Prince George since 1980. An offer of work related to education lead me to move to Prince George. I collected climate data for BC Hydro for four years, met my wife, Anne, in that time. My recreation life was filled with backcountry skiing in the winter and windsurfing in the summer. Our two children have influence the amount of time for those activities and introduced another activity. Alice and Graham are in their late twenties now. I went to work for the Ministry of Environment in what was known as the Water Management Branch next. We had the children in gymnastics when I discovered the joy of an Adult Artistic Gymnastics class. As I got stronger in the gym my interested in coaching was sparked. I retired from the government a few years ago.
I continued to coach gymnastics after retiring from the Monday to Friday government job. I was doing a variety of things in the gym when I was asked to be the Sport Lead for Artistic Gymnastics and the Trampoline competition for the Canada Winter Games held in Prince George in the winter of 2015. There were many meetings, some sleepless nights and with the help a small team we organized a successful event. I am one of the coaches of the high School Gymnastics program in Prince George. We will host the BC Provincial competition in the spring of 2017.
After university I spent the summer on the Juneau Icefield Research Program, as well as an academic experience I skied from Juneau Alaska to Atlin BC that summer. I spent another couple of summers in the mineral exploration business which took me above the Artic Circle. One winter in Victoria I worked for the marine exhibit called Sealand. I was one on the watchmen caretakers of the young Orca, Miracle. My alpine ski experience started with a winter at Sunshine Village Banff. I working on the outdoor crew, this also gave me experience with over snow vehicles which lead to another summer on the Juneau Icefield Research Program, again I skied from Juneau to Atlin, I was on skis for 200 days that year.
At present I am accompanying Anne on a journey that involves visiting her family in England and she is attending the FDI conference in Poznan Poland.
Tom Muirhead - tmuirhead4752@gmail.com
---
Sherry Parrott
~ University of Victoria 1966 ~ 1970
A brief history of the last 45 or so years!
In September of 1970, I left Victoria for a teaching stint in Prince George. I only stayed 2 years in PG as I was off to Europe once I completed my 5 year degree at UVic summer school.
My 3 month trip to see Europe turned into 2 ½ years of traveling. After Europe, I stayed in London and taught for 6 months in the East End of London (an education in itself). I met someone who suggested I join him in South Africa so off I went to Johannesburg! I was there for a year teaching and waitressing and then headed north overland to Kenya and then to Nigeria to stay with friends teaching for CUSO.
Back in the real world in 1975, I started teaching in the Delta School district where I stayed working until I retired. I worked first as a Learning Assistant teacher for about 15 years, but after a year on a teaching Exchange in Perth, Australia in 1991, I moved onto working with children with identified special needs. These kids, from kindergarten to grade 7, were mainstreamed into the regular classroom program. In my spare time for 8 years, I was a member of the West Vancouver Library Board.
During the years of teaching I got married, had a beautiful daughter called Paige, got divorced and met and finally married my wonderful husband Larry. Tragedy befell us, when, in 2008, Paige died suddenly from pneumococcal pneumonia at the age of 24. She was an incredible person who touched the lives of many and we miss her every day.
I have always loved to travel. Paige and I traveled all over Australia when we were there and now Larry and I travel as much as we can. We have driven through many parts of Europe, South Africa, Australia and New Zealand, hiked the Cotswolds, cruised the Danube and the Rhine Rivers, the Baltic and Black Seas as well as from Dubai to Cape Town. We have travelled on buses and trains through Japan, India, Turkey and South East Asia. We like to stay away from the crowds as much as possible and try to do our own 'thing' even when with a group.
We now have our own boat and this summer we cruised up to and around the Broughton Archipelago. In my spare time I love to garden and do all those things I never had time to do when working. But I am also very involved in the community re the environment (Outdoors Club legacy!).
I am the coordinator for the Storm Drain Marking program in West Vancouver working with elementary school kids to paint the yellow fish on the storm drains in the spring and fall. We have now marked over 2,000 storm drains in West Vancouver. I also work with a team of kids from the high schools. It's a part of a program to count the salmon returns in the West Vancouver Creeks every fall.
Currently, my biggest volunteer job is as the chair of the Coho Festival which was just held on Sunday September 11th. It is my 3rd year as chair and the festival is getting bigger every year. This year the chefs cooked almost 2,000 pieces of wild coho salmon. We had Chilliwack (for you old rockers) as our main entertainment. The best thing about the festival is that all the money raised goes to Stewardship groups whose main purpose is the protection and renewal of North Shore streams and rivers.
See you soon!
Larry Carlsen and Sherry Parrott
---
Sylvia Samborski (Drought)
Wow—50 years since I first saw the ocean, jumped off the Breakwater with my new UVic friends and swam out into the bracing water…to be greeted by Mr. Floatie, complete with a wrap of toilet paper.
So began this Okanagan farm girl's eco studies, marked by those crazy UVODC exploits. The Sooke Hills, Pachena Bay, Port Renfrew and Botanical Beach…late nights singing and strumming around a campfire on Margaret Bay (or was it Cordova Bay?) watching other fires extinguished at the other end of the beach until the gentle voices of the police encouraged us to head home.
The summer before I graduated I spent waitressing at Lake O'Hara and climbing its magnificent mountains, reveling in the wildflowers and anticipating the next year's Botany classes. Of all the wonderful mountain-oriented folks I met that summer of '69, my most memorable guests were Dr. George K. K. "Tommy" Link, the designer of the O'Hara trails, and the adventurous artist/naturalists Kay and Denis Suttill, the parents of UVODC member Dave Suttill.
I met Bruce Runyan as I was about to graduate in Biology and he was beginning university for the second time. I was organizing the musical entertainment for an International Environmental Teach-In, to be held at UVic on the very first Earth Day, April 22nd, 1970. Bruce and a buddy brought their guitars and ideas, and about a dozen of us put together a program of environmental protest songs for Lake O'Hara-style entertainment between speakers. (During this conference, I understood, an agreement was struck up between Victoria and Sidney to create a sewage treatment plant. The plan was kiboshed by a Biology prof who said, "Whales do it. Just flush it." The debate goes on…)
Bruce's California surfing and studies had been marred by the political turmoil of the time. He chose to send back his draft cards, refuse induction, and perhaps go to prison in protest. He studied at UC Berkeley and then Santa Cruz under a political cloud for two years after he was indicted, when his parents and friends convinced him to head north--to Hornby Island, where he worked building houses, boats and roads till he'd saved up enough to buy two acres on Hornby from his adopted farmer/fisherman family and head back to university. Though Bruce had started his university courses in '66 as I had, UVic gave him no credits toward his years of excellent U of California courses in Biology and World Civilization. No credit even for German, though he spoke better German than the prof! So he started again from scratch.
Bruce and I were married in the spring of 1971 in Prince George, where I was doing an Education practicum, and we spent summers in naturalist programs in Manning and Bowron Lake Parks. One of my most memorable adventures at Bowron came as the ever surf-hungry Bruce raced home late one afternoon with the news that a great windstorm was heading down Bowron Lake. We grabbed our canoe and equipment and paddled out into the wind and the blackening waves toward the mountains that were fast disappearing in the storm clouds. As we turned, with the wind behind us my job was to catch the gale in a plastic tarp stretched between two paddles as Bruce rode the gunwales, surfing us all the way back by nightfall!
Our daughter Simone was born on June 1, 1972, and when she was three weeks old I brought her to our little trapper's cabin in the woods at Bowron for her first summer. We returned to parks several summers and to UVic during most winter sessions. I worked variously managing an apartment building in Kitsilano, teaching UVic Biology labs and helping students in the MacPherson library, and enjoyed our extended family at the UVic Daycare Centre. In 1977 Bruce and I set up a nature kindergarten in my hometown, Vernon, with Simone in our first class. It was very well received. However, by this time Bruce was showing disturbing signs of leukemia, overlooked by several doctors until he was on death's doorstep. Despite extremely late diagnosis he lived and loved three more years and was an inspiration to many. We still have the storm-worn wooden decoy duck that Bruce found in a cove along the West Coast Trail he hiked with UVODC friends; the duck's head he found in another cove along the way!
I continued teaching kindergarten and primary classes as well as environmental restoration practice, involving kids in Habitat 2000 activities through our school Environment Club. In '84 my Mum and I traded homes: I bought the eight-acre family farm with its hand-adzed two storey log house and rather neglected 1910 farm house; we renovated my smaller house near Kalamalka Lake for her. I taught half time and farmed half time through Simone's teen years, certifying the farm as an organic acreage along the way.
I picked my first serious orchard crop in late August of 1989: two tons of organic Italian prune-plums in boxes in the log house, sold to folks in Lillooet who had yet to pick them up. I planned to take in a teacher's conference the next day and knew that after the conference I would return to the log house and either find a couple of tons of compost—or a cheque. Fortunately it was the latter.
At this conference I had the good fortune to meet my prairie boy Ron Samborski, 27 years ago on Silver Star Mountain. He and I both brought our guitars to the campfire the first evening of the conference. We sang in the flickering campfire's glow, danced and partied and have been making beautiful music together ever since. Ron was the school superintendent of the district to the north of us, so it worked well that I had a job in a different district from his. We were married 25 years ago and have had wonderful adventures together. We moved to Victoria in '96 but rented out our home and headed north for six years in the Peace: the high prairie, a land of sweeping, golden river breaks, magnificent skies and friendly, adventurous people.
Over the years we've backpacked in the Monashee and along the Yoho Iceline, Jasper Skyline and Juan de Fuca Trails. We still like to tent, though now we're happy to have a canoe or bike carry our gear. Canoe camping trips down Jasper's Maligne Lake with friends or on our own have been memorable. Sugar Lake in the Monashee, the ocean off Telegraph Bay and Cowichan Lake are also some of our favourite spots for canoeing.
As Ron's children Andrea, Tanya and Greg live in Switzerland, Calgary and Korea, and my daughter is in Vernon, we've arranged many bike trips along with our trips to visit with them, their spouses/partners and our three grandkids. Our folding Bike Fridays from Eugene make these trips fun and do-able: each bike fits into its Samsonite suitcase; on arrival the unpacked suitcase converts to a trailer to hold tent, sleeping bags and other essentials. We've biked the Danube from Passau to Vienna and then explored the Sound of Music Country above Salzburg. Another time we biked from Brixen in the Dolomites of northern Italy west into the Ortler Alps, then up three watersheds and down the Drau River east and into Slovenia. The latest biking was around the hilltop villages of Provence and south in very early spring, with the wild orchids blooming and flamingos flying in to breed in the lagoons of the Camargue. While we're visiting Andrea in Basel, we like to nip across to the villages of Alsace or into Germany, since we're minutes from either country by bike. And once we biked from her place down the Aar River Valley to the Montreux Jazz Festival on Lake Geneva. Other gems: the Coeur d'Alene and Hiawatha Trails in the Idaho panhandle, old silver mining rail-to-trail projects with tunnels, bridges and trestles: lovely! and our Lochside and Goose.
When Ron's son Greg and his wife were married six years ago on Geoje Island on the southern tip of Korea, we traveled around Korea and then trekked to the Annapurna base camp in the Himalaya. A few years later, Ron did the same trek with Greg. Now we're thinking about a bike trip from Seoul in the northwest corner of Korea to Busan in the southeast. It's quite a route, and even has classical music playing in places along the way!
We're looking forward to connecting with you all in a few weeks. Thanks, Bonny, Laurie and all for getting us together.
Sylvia and Ron Samborski
(Sylvia Drought)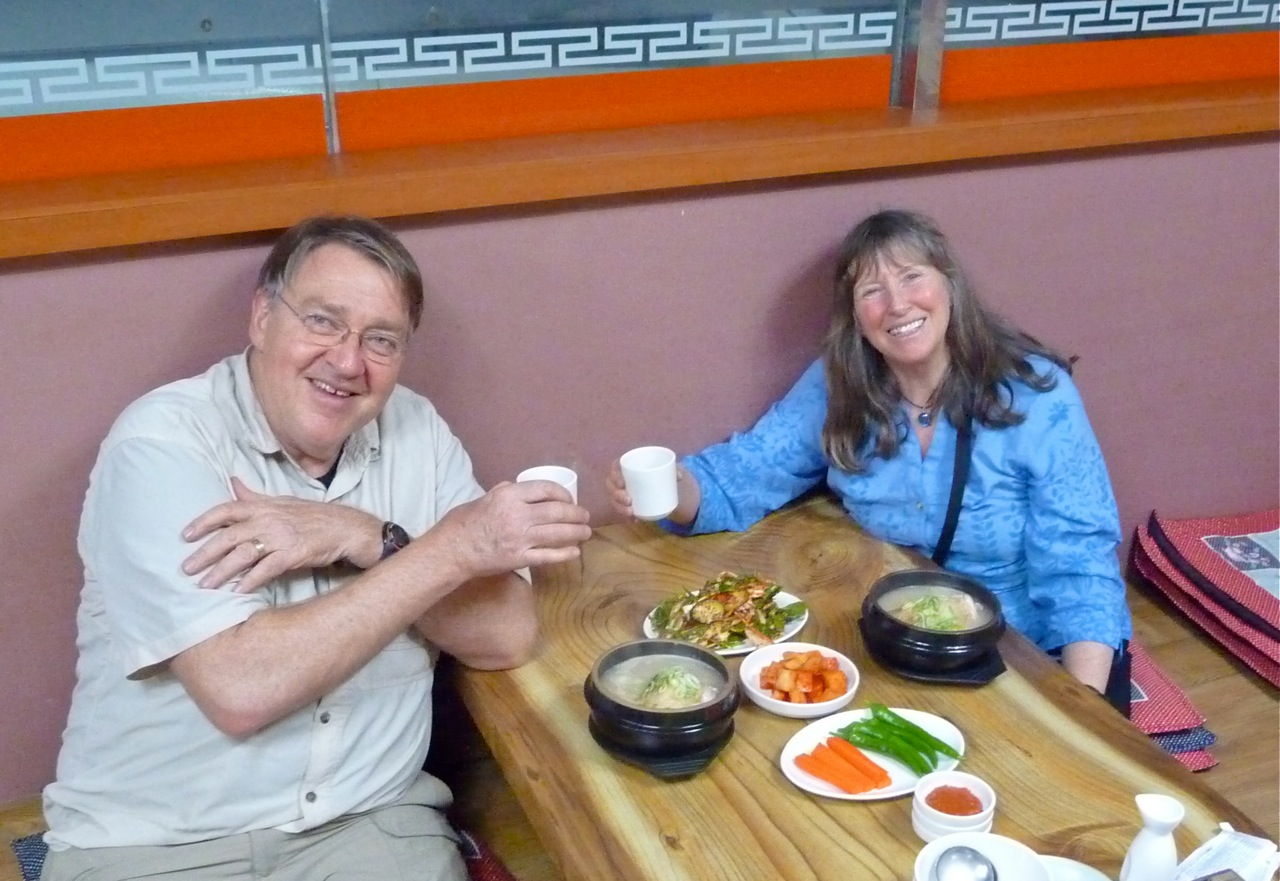 ---
Scott Gain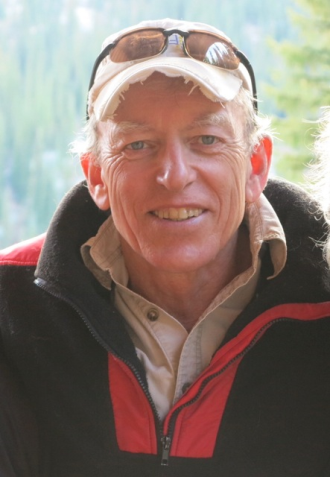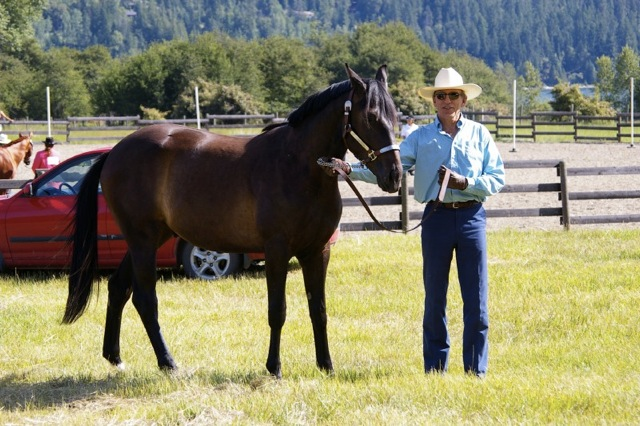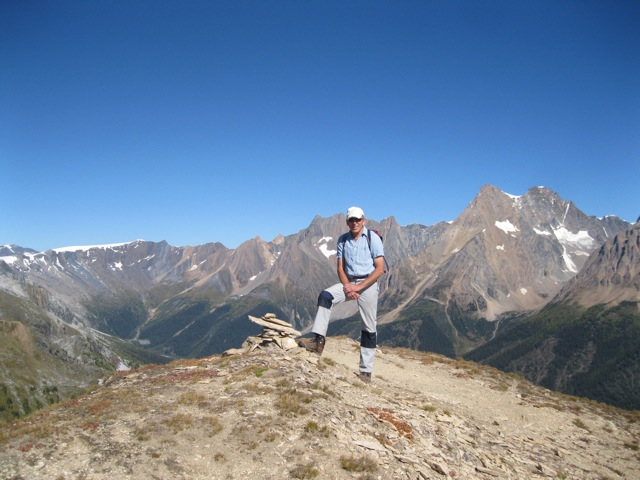 Above Jumbo Pass 2014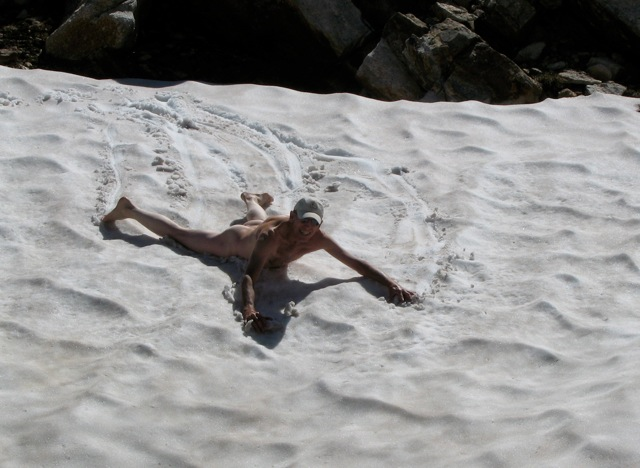 You can take the boy out of the Outdoors Club but you can't take the Outdoors Club out of the boy! 2014
---
Peter and Marilyn van Leusden
Where have the past 45 years gone..... a van Leusden perspective
Marilyn and I were married in Dec. 1971, half way through her final year at UVIC, she graduated and we spent that summer at Rogers Pass, where I had been a seasonal naturalist at Glacier and Mt Revelstoke National Parks for the previous 2 summers. We had both been accepted with CUSO, so in Sept. 1972; we were teaching in a small group of 6 villages called Tutume, in north eastern Botswana. This was a great experience, with a mix of local Botswana teachers along with an international array of expats. Marilyn taught geography, and ran a very effective local and community library program; while I taught agriculture. The school ran on a trimester system, so we had ample holidays to explore, Botswana, South Africa, Zimbabwe (Rhodesia while we were there), Malawi, and Mozambique. We enjoyed the experience so much that we extended our contract for another 1.5 years, so it was a sad farewell when we finally left in Dec. 1975. Undecided on what we wanted to do, we cashed in our return flight tickets home, and travelled overland to Europe. Along the way we had many adventures, which included; climbing Mt Kilimanjaro, trekking in the Ruwenzori Mountains of Uganda, and the Semien Mountains of Ethiopia. In Milan, we bought bicycles and rode to Holland to visit family. We arrived back to Victoria in November of 1976.
Experience rich, but cash poor; we had a variety of jobs in Victoria, till National Parks hired me again for the summer, this time at Pacific Rim. It was a pleasure to work with (under) Barry Campbell for the next 2 summers. Marilyn became the curator on the museum in Tofino.
We had both enjoyed the role of teaching while in Botswana, so enrolled in the pro year program at UVIC in Sept. 1977. Marilyn was offered quite a few jobs; whereas Quesnel offered jobs to the both of us. We thought, well let's go to Quesnel for a couple of years, and nearly 40 years later we are still here.
Marilyn taught in the elementary system, with a variety of roles; classroom teacher, special education, and gifted/enrichment coordinator. I taught; mainly science, and math at the junior and senior level. For many years I and a colleague ran an outdoors club in the district. The focus was to fund raise and prepare the students for a major hiking or canoeing trip. Trips included; the Bowron Lakes Chain, West Coast Trail, Broken Islands, and cycling Jasper to Banff.
We took advantage of a Deferred Salary Leave Plan that the district offered. So paying into the plan for 9 years we took the 10th year off (1995); and took our two boys out of school for the year and did a world trip. Tyson at the time was 12, and Ian 7. This trip has created many family memories; trekking in Nepal, camping in the Serengeti, visiting the school and friends in Botswana, beach time in Thailand, hiking in Switzerland and many more.
We have both retired, and enjoy our home on Ten Mile Lake just north of Quesnel. Marilyn loves the floral aspect of the gardens, while I enjoy growing the veggies. Our winter passion is x-country skiing, and both of us have been very involved in our local x-country ski club. Marilyn has been instrumental in setting up and teaching in the clubs ski school program for elementary school students. I coached both the x-country skiing and biathlon racing programs for many years.
Our son, Tyson, lives in Edmonton, with his wife Sara and their two and a half year old daughter, Brooke. Looking forward to the advent of self driving cars, to ease the 10 hr drive between Quesnel and Edmonton. Ian got married last summer to Marianne. They are living here in Quesnel.
Being active in the outdoors has been a family enjoyment for many years. We have enjoyed yearly backpacking, canoe, and bike trips together. Our son, Tyson said he wanted to be hiking on his 30th birthday in November, so as a family we settled on hiking the Torre de Paine circuit in Chile. Ian on the other hand still prefers his mountain bike; and is at this moment on an alpine ride in South Chilcotin Provincial Park. Our family trip this year was the beaches of Tofino, surfing in the sun!
We have been fortunate to be able to travel, and have enjoyed trips to Vietnam, Cambodia, Galapagos Islands, Mexico, Belize, and a bike trip in Europe.
Reading the bios, that have been forwarded to us, has opened a flood of fond memories. Looking forward to seeing you all. A big thank-you to the organizing committee.
Peter and Marilyn van Leusden
At the John Lennon Wall, in Prague - 2014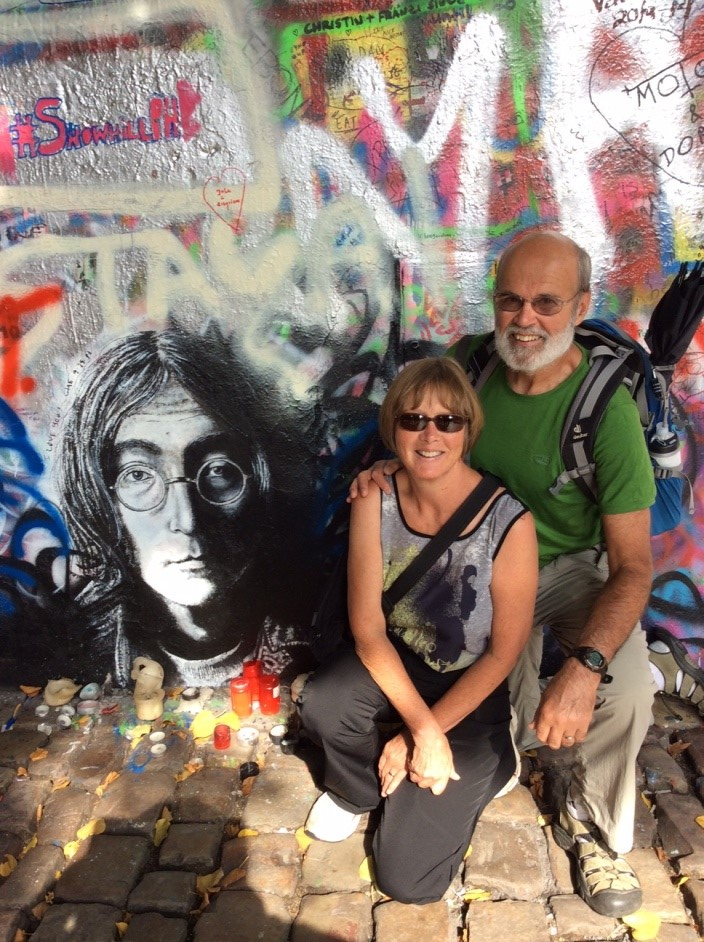 ---


Return to Index